Firms and solicitors continue to quit legal aid. But what to do if you want to stick with it? Melanie Newman reports
The legal aid sector is in such dire straits that the Law Society is considering new guidance for firms on legal compliance while facing insolvency. Despite a recent government announcement of an additional £51m for the criminal legal aid sector, all but the most optimistic expect widespread closures in 2021, particularly among firms reliant on litigation. In the post-pandemic world, low overheads, cooperation, flexibility and technology have emerged as key to survival.
We have had to increase private work to almost 25% of turnover to make legal aid work sustainable

Nina Joshi, Duncan Lewis
With 24 offices across the country, Duncan Lewis is one of England's largest providers of civil and criminal legal aid-funded advice. Managing director Nina Joshi tells the Gazette: 'We have had to increase private work to almost 25% of turnover to make legal aid work sustainable.'
The firm has also secured a 'large working capital facility' from Clydesdale Bank to fund legal aid work in progress before it can be billed. Before Covid-19, the firm had taken 'hard commercial decisions' to reduce overheads to cope with swingeing cuts to legal aid, including outsourcing many back-office functions such as IT support, web and software development, and human resources.
'Over the years we have also heavily invested in a bespoke integrated case/document, HR and performance management system to enable us to streamline our billing,' Joshi adds.
National criminal defence specialist Tuckers Solicitors is another firm that has invested large sums in developing its own case management software. Practice director Adam Makepeace says: 'A lot of firms have set their mind to survive by cutting and cutting, and sweating the people. We've taken a different approach– we want to be sustainable in the long term.'
The firm now has two businesses, he explains: a traditional face-to-face law firm providing advice at the police station and in court; and a legal services infrastructure that other criminal legal aid firms can plug into. 'We are saying to firms: this will support you in the day-to-day practice of criminal and prison law and takes away the compliance side – your business can get back to doing the day job.' The aim is to be 'brand agnostic'. While firms become part of Tuckers they maintain their own local brand. Kent Solicitors of north London and Murray Brankin in Coventry recently joined the network, but further expansion plans have been stymied by Covid-19.
'We had a number of other people lined up for mergers but that requires working capital, and while Tuckers still has the appetite, the banks are less inclined to lend,' Makepeace says. 'We can borrow to sustain the existing business but borrowing for expansion is more difficult – the words "credit crunch" have not been used yet, but that's where we are.'
Where firms offer profitable commercial services, legal aid departments may struggle to justify their existence. Questions about how to divide meagre profits between more solvent teams and departments that are just about surviving can be difficult.
Anthony Edwards of London-based TV Edwards says: 'In the 1980s and 1990s you saw firms break up over that and we now have a lot of specialist criminal practices. We battled for years in my firm about how to divvy up. We tried all sorts of different divisions to keep the firm together.' Ultimately the firm's different departments survived because they cross-subsidised each other, he adds. 'Today's criminal client is tomorrow's housing client, and the community care and benefits teams may also link in.' The housing client will then bring in other work over their lifetime. This is less likely to happen in rural areas which is why deserts are springing up, Edwards observes.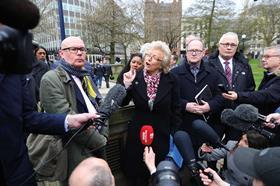 Following the crowd
Christopher Stanley, a litigation consultant in the London offi ce of Belfast-based human rights firm KRW Law, is best known for his epic battles for legal aid funding for the inquests into the 1974 Birmingham and Guildford IRA pub bombings. In the Birmingham case the firm worked for four years in the UK pro bono, with some income from crowdfunding and support from the office in Northern Ireland.
Media interest is essential for a successful crowdfunding campaign. 'We only have six partners but we have a very good PR machine,' Stanley says. 'We work hard to cultivate all the press, from the Morning Star to the Daily Express. I spend 50% of my time writing press releases. And it's worked – we have a higher profile than we probably deserve. We won Legal Aid Firm of the Year in 2020.'
As a consequence of its media profile the firm has gained another, unexpected form of income, via libel litigation to defend its own reputation. The firm's work had been compared with that of Phil Shiner, the solicitor struck off in 2017 for pursuing unfounded claims of war crimes against Iraq veterans, and it has been wrongly accused of being the legal arm of the IRA. 'We usually settle out of court and it helps fund our work,' Stanley says. But he does not welcome the libel. 'It puts our business at risk. They used to shoot lawyers in Ireland and there's still that threat.'
But KRW's success in crowdfunding has come at a cost. The Legal Aid Agency has denied funding to Stanley's clients on the basis that cash could be raised through alternative means such as crowdfunding. Meanwhile applications for legal aid for the inquests into the London Bridge and Westminster Bridge terrorist attacks have been refused on public interest grounds. The result, Stanley says, is a stark inequality of arms at inquests, where the state's actors are represented by QCs and the victims' relatives are unrepresented.
For Essex and London-based Edwards Duthie Shamash, the flexibility allowed by its mix of corporate, private client, government and trade union services, as well as legal-aid-funded work, has been key to success.
If you have a firm that does a big chunk of commercial and private work and 20% legal aid, it might come to be seen as a charitable endeavour. That's not where we are

James Harrison, Edwards Duthie Shamash
James Harrison, a partner in the community law team in London, says: 'If you have a firm that does a big chunk of commercial and private work and 20% legal aid, it might come to be seen as a charitable endeavour. That's not where we are.'
Legal aid work accounts for around 60% of Edwards Duthie Shamash's turnover and has served the firm well, he says: 'Generally speaking, the departments balance each other out. For example, our property team came under pressure during lockdown and on the other hand our family legal aid team was busier than ever. It needs careful management but we are less vulnerable than a smaller firm with all its eggs in one basket.'
However, any perception that larger firms will ride the storm of legal aid cuts and the pandemic more easily is not necessarily true, he adds: 'There are knock-on costs of dealing with things on a bigger scale – the larger spend on offices and wages can offset any gains from economies of scale. The key is to be efficient and well-managed.'
According to the Legal Aid Practitioners Group, many members are thinking of reducing office space. But CEO Chris Minnoch says deciding how much floorspace to retain is causing a conundrum at management level. 'Firms have to counterbalance reduced numbers of staff in the office with the need for more space per person because of social distancing,' he notes.
The inflexibility of legal aid contracts is not helping, Minnoch adds: 'The contract has a requirement that in the geographic area in which you hold your contract, you have to have an office open a certain number of hours per week. That was relaxed during lockdown but is now being phased back in.'
My uncomplicated and low overheads business model appears to be reasonably well equipped to cope with unexpected circumstances like Covid-19, compared, say, to traditional high street practices with large overheads and wage bills

Oscar Vincent, Vectis Law
Some of the criminal legal aid firms proving most able to cope with the pandemic are run by sole practitioners. Oscar Vincent is one of the Isle of Wight's four duty solicitors and a higher-court advocate. He runs his firm, Vectis Law, with his wife, who manages day-to-day operations. His experience of lockdown is far from the picture of gloom one might expect after months of closed courts.
'Overall, apart from an initial dip in March and April, we have experienced little difference in workload and turnover during the lockdown and are now back to where we were before March,' he tells the Gazette. 'My uncomplicated and low overheads business model appears to be reasonably well equipped to cope with unexpected circumstances like Covid-19, compared, say, to traditional high street practices with large overheads and wage bills.'
The firm makes extensive use of IT in the form of a cloud-based case management system and Vincent works long, irregular hours. 'You can make it work if you're prepared to put in the graft,' he says.
Another sole crime practitioner, Gary Harvey of Harveys Solicitors in Flintshire, north Wales, says the firm's income dropped by 60% in the period from March through to the courts reopening, but he had 'ridden the storm' by furloughing his administrative staff and with the help of a £10,000 grant from the local authority. Like Vincent, he says the key to survival is minimal overheads. 'You have to cut your cloth and have volume or you will go under. You can't borrow your way out of this thing.'
Working in Wales also helps, he adds: 'Being in London where legal aid rates are not much better than here but the overheads are huge? I don't know how they do it.'
Until 2019 Harvey was working with two other solicitors but after they left he was unable to replace them. This worked to his benefit. 'Being a sole practitioner with set overheads and a low wage count, it's easier for me to survive. Two years ago I'd have had a bigger wage bill and it would have been a lot harder,' he reflects.
The going is still tough, however. His hours are long and even with costs cut to a minimum, his income is not high, and it is unpredictable: 'It's difficult. I work until late at night and I still enjoy it, but I enjoyed it a lot more when I was earning more.' His advice to anyone coming into the sector is to get higher-court advocacy rights: 'It's extra remuneration, a lot of people are doing it, but the bar is unhappy.'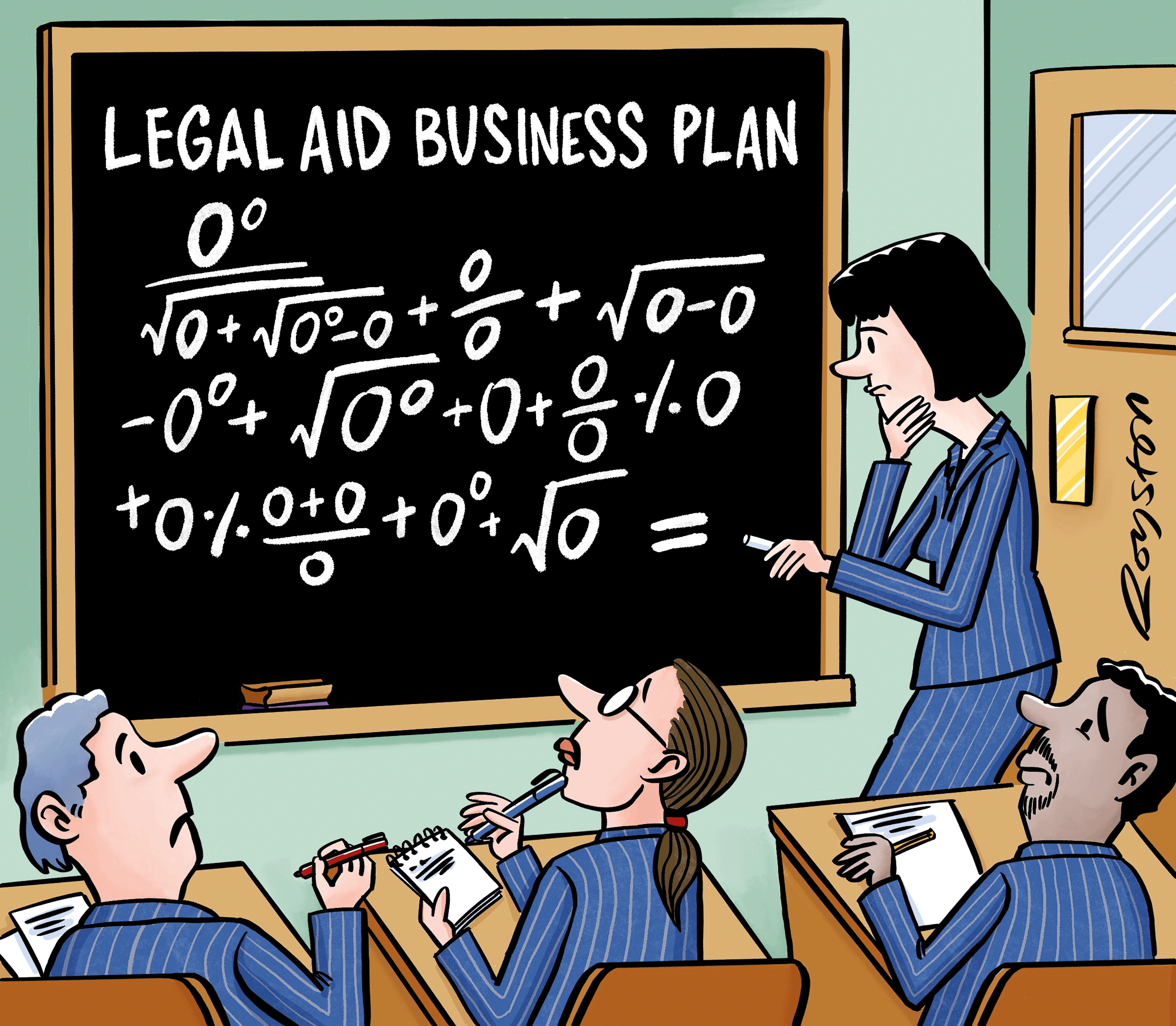 He gets in additional help as necessary, using self-employed agents and the spare capacity in larger firms. One firm in Wrexham has four solicitors and a smaller turnover than he does as a sole practitioner, he says.
'If I'm in Cheshire on Monday and have a case in Llandudno, I will get a local solicitor to do it. It's cheaper to do that than employing someone on £40,000 who may or may not be busy,' he explains. 'Some firms charge the earth and they don't get any work from me.' He also takes on work at below legal aid rates to help other lawyers. 'I'll get a call saying: "Gary you're in Mold and I'm on the coast 50 miles away, will you do this case for £60?" I will, to help out.'
Jason Hill, founder of legal consultancy TLC Legals and a former senior contract manager at the Legal Aid Agency, says he has been inundated with enquiries from people looking to move from a large legal aid department into a smaller outfit, or go solo: 'This happens anyway – people get itchy feet after around five years on average – but we're definitely seeing more people than in the past.'
But he warns new crime sole practitioners to be careful of falling foul of the '14-hour rule' for duty solicitors. Duty solicitors must carry out a minimum of 36 court hearings and police station attendances in a rolling 12-month period.
To stop firms from paying solicitors to use their details as 'ghosts' to obtain additional slots, a rule was introduced in the 2017 legal aid crime contracts requiring duty solicitors to carry out 14 hours of contract work per week from the office for which they derive their rota slots. 'The rule hit a lot of people,' Hill says.
While the rule was amended in 2018 following lobbying by the Law Society, and now allows greater flexibility in rural areas with insufficient duty work, local firms' ability to cooperate is still affected, he says: 'Previously you could share police station work with someone locally. Now if the call comes through to your firm and you can't do it, the work goes on to the next person.' Some 90% of duty solicitor call centre requests for police station advice must be accepted and dealt with properly, or the firm will fail against LAA key performance indicators.
When it comes to civil legal aid, downsizing may also rule out strategies such as doing legal help work (which carries a relatively high risk of falling foul of LAA rules, leading to fees being refused or recouped) pro bono in the hope that it leads to the less risky and higher paid certificate work. 'Smaller firms and sole practitioners can't afford to work for free,' Hills says.
Perhaps the best hope of the sector's survival lies in greater cooperation, as practised by Harvey, and resistance to further detrimental change. Immigration firms showed strength in numbers when they united in opposition to government plans for a legal aid fixed-fee regime for immigration and asylum appeals. Solicitors from 200 firms came together to launch a judicial review of the move, with a separate challenge by Duncan Lewis, forcing a Ministry of Justice climbdown in August.
But there was less solidarity between criminal defence firms in resisting MoJ proposals to open courts on Saturdays for routine criminal work, with one lawyer tweeting that all firms in his area had agreed to refuse to take on routine Saturday court work, bar one unnamed practice. The tweet prompted multiple responses bemoaning the profession's inability to stand together. London defence solicitor Julian Young tweeted: 'Welcome to the world of Highbury Corner Magistrates' Court where solidarity would be an illusion and touting is rampant.'
While some firms are prepared to scrap over such lean pickings rather than work together, law firms committed to a future in legal aid will remain reliant on their own imaginative endeavours in order to survive.
Melanie Newman is a freelance journalist