The Team at HAPPA (Horses and Ponies Protection Association) are delighted and bursting with pride to welcome three Arabian horses that have previously suffered devastating cruelty and neglect at the hands of a stud yard owner in Blackpool.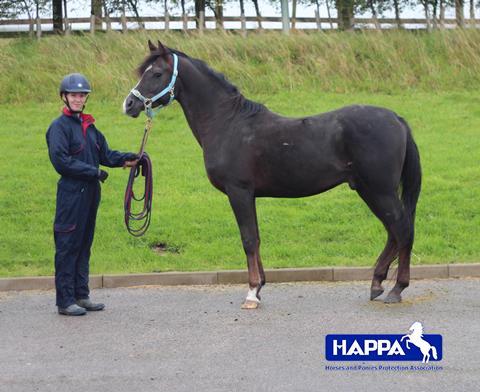 A year on, and after a successful prosecution, three Arabian horses have recently joined the herd at HAPPA and are ready to embark on their next stage of rehabilitation at the Charity's bespoke facilities at Shores Hey Farm in Burnley, Lancashire .
HAPPA's Equine Inspector Tracy Capper was one of the initial investigating officers and assisted in gaining entry to the premises after receiving a tip off from a concerned member of the public. The Case concerned a total of 31 equines living in squalid conditions, most close to death due to starvation and many having been locked in their stables full of animal waste.
Further details of the original case can be found on the HAPPA website by following the link https://www.happa.org.uk/proud-to-be-part-of-the-rescue/
The Charity would like to introduce you to:-
HAPPA Conker, a stunning 14hh Liver Chestnut Gelding, aged six years. He is suddenly seeing everything for the first time and has started going in and out of the play-pen at the Centre and is readily accepting interaction. He is developing a cheeky character and is extremely intelligent. Equine Care Supervisor, Adele Forster, has grown very fond of him and says "Conker is a real sweetie, he is changing daily and is getting braver, and he is keen to learn new things. He is a real head turner and I am happy to be involved with his rehabilitation journey".
HAPPA Pennywise, a stunning Steel Grey Gelding aged five years, is a little more timid than his stable mate. He is slightly bigger standing at around 14.1hh. He is becoming interested in his surroundings and is more accepting of new things every day. He was very challenging in the beginning, not trusting anyone and reacting in a very defensive way. Equine Care Supervisor, Celia Royds, already has a soft spot for him, and says "Underneath he is quite sweet, he has been through such a lot in his short lifetime and he will build trust given time, he has already taken big steps and is enjoying his new lifestyle. He has a varied routine and is experiencing daily turnout, everything is new to him and he is bound to be nervous".
HAPPA Candy, a 17 year old Chestnut Mare, probably spent her whole life as Brood Mare, and is suffering from anxiety. On arrival she was highly strung, stressed and suffers from stereotypical behaviours associated with being locked up and confined to a stable. She is slowly settling into her new routine and is being allowed the freedom of turnout within the round pen.
Thanks to the Collaborative Rescue Mission with other welfare agencies these horses now have a bright and positive future ahead of them and are ready to begin a new journey of discovery. HAPPA never relinquish ownership and will be committed to caring for them for the rest of their natural lives.
If you would like to support their journey and contribute to their care, then contact HAPPA on 01282 455992/ visit the website at www.happa.org.uk/donate or donate on Facebook @HorsesandPoniesProtectionAssociation