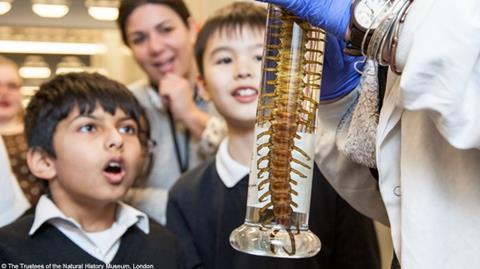 The Natural History Museum welcomes over 4.5 million visitors each year to enjoy our collections and engaging displays, inspiring a love of our natural world. The Museum is also a global centre for scientific research, with 350 scientists running a range of initiatives that aim to solve the challenges facing our planet and humanity.
By remembering the Natural History Museum in your Will, you'll help support our scientists in their work to unlock a solution to climate change, food poverty or disease migration and inspire the next generation of conservationists, environmentalists and natural scientists to continue this work to protect our planet.
If you are interested in supporting the Museum in this way or have any questions about leaving a gift in your Will please contact our Legacy Team by telephone on 020 7942 6044 or via email on legacies@nhm.ac.uk
Thank you for thinking of the Natural History Museum.
Along with other museums and galleries the Natural History Museum is officially an Exempt Charity (included in Schedule 3 to the Charities Act 2011). The Museum's Principal Regulator is the Department for Culture, Media and Sport (DCMS).
Part of the 'Remember A Charity' campaign.

Supporting documents
Click link to download and view these files