Supporting paediatric oncologists working in Malawi, Nigeria, Tanzania and Zimbabwe, this new initiative will see pairs of nurses travel to South Africa to learn critical skills to care for children with cancer. Training will be delivered at the Red Cross War Memorial Children's Hospital in Cape Town - one of the world's leading children's hospitals, and Africa's premier training centre for pediatric healthcare.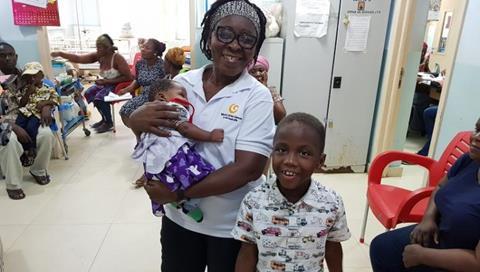 Every year 300,000 children worldwide are diagnosed with cancer. Whilst survival rates for those born in high-income countries are good (~80%), in low-income countries they can fall as low as 10%. The treatment exists, and it does not have to be expensive. Research shows that half of all childhood cancers can be cured using low-cost generic drugs. The problem is one of context. In Africa, late (or missed) diagnosis, a shortage of trained doctors and nurses, and poor health resourcing all contribute to high mortality rates. Compounded by issues of poverty, treatment abandonment, and complications of malnutrition, malaria, HIV, TB – the prognosis for these young children is poor.
In September 2018 the WHO launched a new Global Initiative to treat children with cancer. Looking to save one million lives by 2030, we believe that multi-disciplinary teamwork is a key part of this. That's why we have joined forces to give paediatric nurses from four African countries the chance to build their skills at the Red Cross Children's Hospital. Professor Alan Davidson, Head of Paediatric Oncology-Haematology comments:
'The Oncology-Haematology service at the Red Cross Children's Hospital has treated nearly 5,000 children since its inception, and manages more than 120 new cases of childhood cancer every year. Our survival rates are on par with international standards. Based in Africa, we have a unique opportunity to help others build the skills that can help save the lives of our continent's children. Our partnership with World Child Cancer is an exciting part of this. In such a small field, it is natural that we should work together, and I am excited to see where it will take us.'
World Child Cancer Chief Executive, Jon Rosser, added;
'Most childhood cancers, if detected early enough, can be cured – and we are delighted to be working in partnership with The Children's Hospital Trust (South Africa) to help give more children a faster route to better treatment. World Child Cancer has supported over 20,000 children over the last 10 years, and we hope this new partnership will help us in our mission to ensure that every child, no matter where they are born, has equal access to the best possible treatment and care.'
Learning critical skills in diagnosis and referral, treatment planning and management, education and advocacy, training is supported by the University of Cape Town's Child Nurse Practice Development Initiative. Each nurse will return home to work with specialist oncologists and alumnus of their sister programme, the African Paediatric Fellowship Programme. The pilot will run from January 2019 to conclude in 2020 and is supported with funding from the UBS Optimus Foundation.