Dr. Sumit Gupta is one of the incredible team of World Child Cancer runners taking part in this years' London Marathon.
As well as being a paediatric oncologist at the Hospital for Sick Children (Sickkids) in Toronto, Canada, he is also a seasoned runner having completed no less than six marathons! Having always aspired to earning a place in the London Marathon, Sumit explains how his dreams have now come true;
"Running is a huge part of my life. Marathons for me are not only a way to cope with stress in my work life but also a way for me to continuously challenge myself and be inspired by others' accomplishments."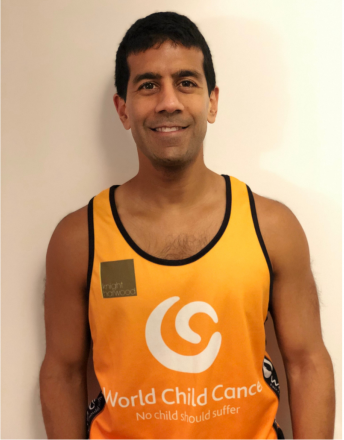 Sumit's work sees him care for children with cancer in Canada and he understands why World Child Cancer's work is so important. When asked about what prompted him to become a paediatric oncologist, Sumit recalled a volunteer opportunity at a childhood cancer clinic where he met a child suffering from ALL (Acute lymphoblastic leukaemia). Back then, children were not sedated during painful procedures and he remembers watching the child suffering in severe pain during treatment. At the time, Sumit thought there was no way he could handle witnessing this but just a few minutes later his whole perception changed. After completing his treatment for the day, the child asked him if he wanted to play a game of Battleships as if nothing had happened. Sumit was so inspired by the resiliency and strength of these children. When he was studying medicine, he tried different areas but this memory kept pulling him back to paediatric oncology.
"I have always been passionate about improving the outcomes of children with cancer in low and middle-income countries."
Sumit is the co-chair of the Unit for Policy and Economics Research in Childhood Cancer (PERCC), based at Sickkids. PERCC has recently partnered with World Child Cancer on developing research and evaluation components to some of World Child Cancer's exciting initiatives in West Africa.
Sumit has been running for 15 years and five years ago joined a running group out of The Runners Shop in Toronto. Since then, he's felt part of a great running community.
"For me personally, it's the best way to deal with stress and life challenges. If I'm having a bad day, going for a run helps me balance, let go and I feel so much better".
The London Marathon is one of the world's most iconic events and you can join Sumit in running for World Child Cancer by applying today.