Crowdfunding campaigns are under way to pay costs imposed on Mark Lewis by the Solicitors Disciplinary Tribunal (SDT), amid outrage that the high-profile lawyer was punished for responding to antisemitic death threats. One QC has accused the tribunal of 'picking on a Jew subject to racist abuse'.
Lewis, who represented phone-hacking victims against the News of the World, was found to have acted with a lack of integrity and failed to uphold the confidence the public places in the profession when he 'wished death' to his abusers on Twitter. He was fined £2,500 and ordered to pay £10,000 in costs.
At least two funding campaigns set up in the wake of that decision had already raised more than £7,000 by noon today.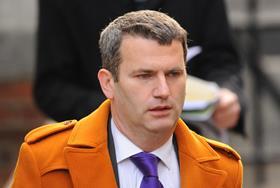 Lewis, who is Jewish, was alleged by the Solicitors Regulation Authority (SRA) to have 'repeatedly wished death to his abusers'. Lewis's lawyer Timothy Kendal said that among the messages his client received were death threats, tweets mocking his multiple sclerosis and others that showed his face superimposed on photographs of the crematorium at Auschwitz. Some of his abusers have been convicted for their conduct towards him, Kendal noted.
Lewis's submission at the three-day hearing was that he was showing strength by responding to 'vile' abuse. He had not responded to any abuse since the SRA published new guidlines about social media use.
The SDT's finding was met with cries of 'disgrace' from a packed tribunal room. A similar reaction has since been shared on social media. Simon Myerson QC (@SCynic1) tweeted: 'I don't post specifically as a Jew very often. But @sra_solicitors [the SRA] is covered in shame tonight. They picked on a Jew subject to racist abuse. They punished him as a solicitor for responding to death threats. Being a Jew first isn't acceptable, apparently. Truly contemptible.'
Another user, historian Marko Hoare (@markoah), tweeted: 'It's an absolute scandal and testimony to the readiness of responsible bodies to punish those who fight back against abusers instead of punishing the abusers.'
One of the campaigns, set-up by Jonathan Hoffman, who speaks out against antisemitism, has raised £5,300. A separate campaign has raised more than £1,000. A third, purportedly for Lewis and wife to set-up a new life in Israel, has also raised more than £1,000.
A description on Hoffman's page reads: 'A London-based Jewish lawyer, Mark Lewis, stood up to antisemites and as a result faced a professional disciplinary hearing. Anyone who regards themselves as an antiracist should be appalled by this hearing and verdict. The victim has become the perpetrator.'