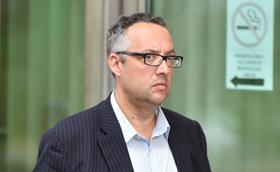 An unregistered barrister, found guilty over his part in a conspiracy to defraud the Legal Aid Agency (LAA) of hundreds of thousands of pounds, has been disbarred.
Neil Frew was one of three lawyers convicted of the conspiracy. The offence occured while he working as a solicitor at Bradford firm Chambers Solicitors. Frew has already been struck off by the Solicitors Disciplinary Tribunal (SDT).
A hearing yesterday found Frew, called to the bar by Middle Temple in October 2004, guilty of five charges of professional misconduct brought by the Bar Standards Board.
Frew was handed a two-year suspended sentence at Sheffield Crown Court in 2017. He was found guilty alongside Mohammed Ayub and Mohammed Riaz. The court heard that between September 2010 and October 2014, the trio conspired to create a sham company – known as Legal Support Services (LSS) – to claim thousands of pounds in interpreters' fees expenses from the LAA. The prosecution stated that the three men were involved in the claiming of disbursements to an agency for the provision of interpreters for immigration and asylum contract work, when in reality, no such agency existed or was used.
During the sentencing hearing Frew's barrister Patrick Harrington QC said his client had played 'nothing like a leading role' in the fraud and stood to make no financial gain.
Commenting on the order to disbar, the BSB's director of professional conduct Sara Jagger said: 'The public must be able to rely on the legal professions to act honestly when claiming money from the LAA. Frew's criminal conviction for defrauding the LAA is entirely incompatible with continued membership of the bar. The tribunal's decision that he should be disbarred rightly reflects this.'
The tribunal's decision is open to appeal.