A state crackdown on human rights lawyers in Iran, in which practitioners have been jailed for attempting to represent their clients, violates domestic laws and international obligations, an independent campaign group has said.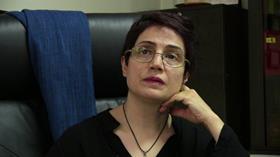 The New York-based Center for Human Rights in Iran (CHRI) issued its latest statement following news that at least three lawyers have been charged and four others blocked from retaining clients over the past eight months. Among those imprisoned is Nasrin Sotoudeh, detained since June on national security charges for serving as the lawyer of a woman charged with removing her headscarf in public.
Iran's judiciary has been accused of complicity in the crackdown after it issued a list of 20 state-approved lawyers for detainees accused of national security offences. CHRI's executive director Hadi Ghaemi said this deprived citizens of one of the most basic rights, to counsel of their choice. 'If the Iranian judiciary won't abide by the law then it is the responsibility of the Rouhani administration and Iran's parliament to address these violations of due process,' said Ghaemi, 'and Iran's Bar Association should take the lead in defending its own members.'
Other victims of the crackdown on lawyers include:
Mohammad Najafi, facing eight national security charges for telling media outlets that local authorities concealed the true cause of a death in police custody during protests earlier this year.
Mostafa Tork Hamadani, summoned to court and charged in July after criticising the judiciary for barring him from defending environmentalists who were arrested by the Islamic Revolutionary Guard Corps.
Hossein Ahmadiniaz, summoned by the Revolutionary Court in Sanandaj, the capital of Kurdistan Province, after he signed an open letter with 154 other lawyers criticizing judiciary chief Sadegh Larijani for restricting counsel for detainees held under national security-related charges.
The International Covenant on Civil and Political Rights, to which Iran is a signatory, recognises the right of an accused in criminal proceedings to be represented by legal counsel of his or her choice. Iran's constitution sets no limits or conditions on the right to legal counsel.
However in January this year judicial offices received lists of lawyers that have been allowed by the judicial branch to take on cases involving national security charges. This note also permits judicial authorities to delay an individual's access to a lawyer by up to a week in cases involving alleged 'crimes against the country's domestic and foreign security'.
Before her arrest, Sotoudeh was quoted as saying: 'If the head of the judiciary can stop lawyers from practising, it's time to say goodbye to this profession.'