A former law firm marketing boss has been cleared of corruption by the Solicitors Disciplinary Tribunal, bringing to an end lengthy proceedings that will cost the SRA over £81,000.
The regulator had sought to have Francisco Xavier Rodriguez-Purcet, a non-solicitor, barred from working in the profession after alleging that he dishonestly profited from loans secured by his ex-firm, the now defunct Tandem Law. But the tribunal found all allegations against him unproven and said he was entitled to rely on the senior legal professionals above and around him for guidance on how monies were spent.
The tribunal's decision brings to a close proceedings which commenced more than two years ago relating to events that happened seven years ago. Last October the High Court ordered a rehearing after finding Rodriguez-Purcet was found by a previous tribunal panel to be dishonest without being given the chance to defend himself.
Following that decision, the SRA asked the tribunal to award it 50% of its £86,000 total costs on the basis that Rodriguez-Purcet's conduct of proceedings had increased the costs involved. The tribunal accepted the respondent should pay some of the costs but considered the SRA's estimate to be 'greatly excessive'. Instead it ruled that £25,000 was as much as it was reasonable to assess for this case, and Rodriguez-Purcet should contribute 20% of that. The rest must be covered by the SRA.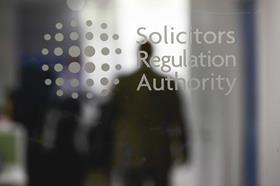 During the hearing, the SRA had alleged that Rodriguez-Purcet procured, arranged and received monies derived from Axiom Funds and which were corrupt and improper payments from a company owned and run by a personal friend. It was alleged he used his senior management position as head of marketing and business development to pay – out of Axiom loans – referral fees to his friend's company, who then passed on a portion of the profits to him.
Tandem Law was among the firms to have become involved in what was described at the hearing as the 'Axiom debacle' – loans to law firms that have already led to several solicitors from different firms being prosecuted and multi-million-pound losses for investors.
But Rodriguez-Purcet said the case against him amounted to an 'attack on his character to disguise a paucity of factual evidence' and that everything he did was approved by the Tandem board.
He maintained that the company paid out of Axiom funds provided a genuine service to Tandem. He described it as 'bizarre' that the SRA described a venture as corrupt where Tandem had a commercial need and he simply helped meet it.
The tribunal said the history of the Axiom fund was 'essentially irrelevent' to this particular case. Rodriguez-Purcet was found to be a credible and truthful witness who provided explanations for his actions. He had not negotiated the Axiom deal and had challenged some of the spending, while there was no reason why he should not be paid for the intermediary work he was doing.