A campaigner sentenced in her absence to five years in prison for activities on behalf of human rights groups in Egypt has urged foreign lawyers to continue to protest at the detention of colleagues by Egyptian authorities. 'When a statement comes out it makes a huge difference,' said Dr Nancy Okail, saying that the Cairo government was anxious to preserve good relations with the West.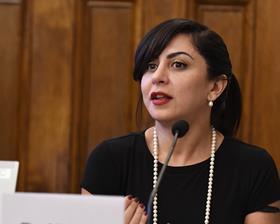 Okail, now executive director of the Tahrir Institute for Middle East Policy, Washington DC, was speaking at a Law Society event to mark the international day of the endangered lawyer - the day after president Abdel Fattah al-Sisi emerged as the sole candidate in the March presidential election. As a result, Egypt is moving towards 'flat out dictatorship', Okail said.
She said that civil society organisations, and lawyers trying to defend them, bear the brunt of 'unprecedented levels' of forced disappearances, torture deaths and pre-trial detentions. In December last year alone, 221 people were 'forceably disappeared', she said.
Lawyers have been detained, had their assets frozen and been barred from travel. 'The current emergency law, which was renewed earlier this month, makes the situation even more threatening, and human rights lawyers, who are in the forefront of this battle, are themselves subject to repressive measures, she said.
Okail was tried in absentia in Egypt in 2013 and convicted to five years imprisonment in proceedings in which 43 workers with non governmental organisations were charged with using foreign funds to foment unrest - a charge she denies. Her defence lawyer, Negad ElBorei, is now a defendant himself and is currently banned from traveling, she said. 'Supporting those lawyers is absolutely necessary especially under these conditions.'
Opening the event, Law Society vice president Christina Blacklaws said that solicitors have a duty to uphold the rule of law and would continue to intervene on behalf of Egyptian colleagues. 'The Law Society is committed to our profession's right to practise freely,' she said.