A former solicitor-advocate who claimed he could not walk without help – but was then spotted driving a miniature train – has been sentenced for benefit fraud.
Alan Blacker, who also goes by the name Lord Harley, was found to have dishonestly claimed disability living allowance for five years, stealing more than £23,000 from the taxpayer.
Blacker, from Rochdale, had claimed he was unable to walk without physical support, required personal care from another person day and night, could only be left safely for 15 minutes at a time and could not manage steps or stairs.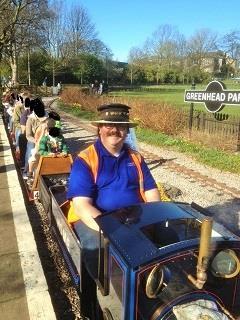 But video and surveillance footage collected by prosecutors found him driving miniature locomotives and getting on and off with apparent ease. He also took part in first-aid courses which required bending, kneeling, lifting and standing for significant periods, and represented a defendant at Cardiff Crown Court which involved walking up a significant number of steps with no apparent difficulty.
Blacker, struck off in 2016, was found guilty last November following a trial at Manchester Crown Court of making a false representation to obtain a benefit. The jury failed to reach a verdict on a further count of dishonestly failing to notify a change in circumstances.
He was sentenced last week at Manchester Crown Court to nine months in prison, suspended for a year.
Rob Girvan, of the CPS Mersey Cheshire Fraud Unit, said: 'At one point during this investigation, Alan Blacker was working as an advocate in Cardiff Crown Court, moving around the building with ease and climbing stairs, while claiming benefits aimed at people who are "virtually unable to walk".
'He had several hobbies and interests, most of them requiring a degree of mobility which he said he didn't have.'
Blacker came to national attention in 2014 when he was criticised for his appearance by a judge, who told him the solicitor-advocate appearing before the court looked like 'something out of Harry Potter'.
He was subsequently charged by the SRA with misconduct after it emerged he had falsely claimed to have academic and other qualifications, including a knighthood and a ranking position in St John Ambulance. He did not attend the tribunal hearing that resulted in his striking-off, citing ill health.