A former solicitor has been jailed for taking over £200,000 from the bank account of a severely disabled client in order to save his failing West Yorkshire legal firm. Robert Wiggans took advantage of his position in charge of the young woman's finances to commit fraud offences which a judge described as 'the most terrible breach of trust'.
Wiggans carried out the deception when he was a senior partner at Dewsbury-based legal firm Hellewell, Pasley and Brewer.
Leeds Crown Court heard Wiggans, 61, was admitted in 1987 and was the firm's compliance officer for finance and administration at the time of offending in 2015 and 2016.
Heather Gilmour, prosecuting, said Wiggans managed compensation which had been paid to the victim as she was severely disabled due to medical negligence. She requires 24-hour care and cannot live unaided.
Wiggans was appointed by the Court of Protection to look after her financial affairs in 2001.
Wiggans' offending came to light in 2017 after the Solicitors Regulation Authority became involved with his firm as it were struggled financially.
Records showed that Wiggans had transferred £150,000 from the victim's bank account into his own account on 31 August 2016. A further sum of £10,000 was transferred from her account to his on 31 October 2016.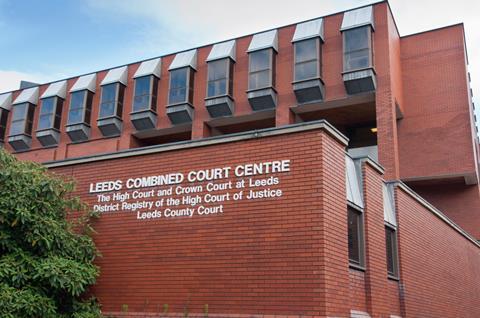 The money was used to make payments to HMRC and pay staff wages.
Gilmour said: 'None of the money was repaid in to the client's account and he did not have the consent of the family.'
Wiggans was struck off the roll of solicitors in 2018.
When interviewed by police Wiggans admitted transferring £160,000 from the woman's account as his firm was in trouble and the bank was threatening to close the business. He said the money was used to pay staff wages and VAT bills.
Wiggans said he was not aware of any further transactions and claimed he always intended to repay the money. However further investigation revealed another 22 unauthorised withdrawals, totalling £66,000, had been made from the victim's bank account between January 2015 and August 2016.
Wiggans pleaded guilty to three counts of fraud.
Carl Kingsley, mitigating, said Wiggans' firm specialised in conveyancing and the business began to suffer heavy loses after the financial crisis in 2007. Kingsley said Wiggans also borrowed £250,000 from his parents to put in to the business in 2015 but that money was also lost.
The offending was carried out in attempt to save the business and the money was not used to fund a luxury lifestyle, counsel said. Kingsley added: 'The defendant has subsequently lost the profession that he loved. He has nothing left and accepts that the court will have to impose a custodial sentence.'
Jailing Wiggans for two years and four months, His Honour Judge Neil Clark said: 'This was the most terrible breach of trust.'