A high-profile solicitor has said he has 'no qualms' about having sent aggressive messages to online bullies who made him a 'lightning rod' for a torrent of anti-semitic abuse.
Mark Lewis, who represented phone hacking victims in their claims against the News of the World, is alleged by the Solicitors Regulation Authority to have posted 'offensive and profane' messages through Facebook and Twitter to third parties.
Ahead of a proposed three-day hearing, Lewis today applied to the Solicitors Disciplinary Tribunal to have part of the proceedings stayed as an abuse of process. The application referred to an allegation relating to use of his Twitter account from July 2015 to December 2016. An allegation relating to use of a Facebook account in May 2017 is not part of the application.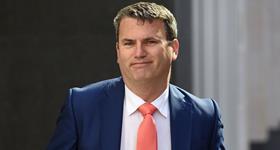 His representative, Timothy Kendal, said the investigating officers of the SRA had not researched the context of the Twitter messages Lewis was replying to, nor the background of the people who had originally sent him abuse.
Giving evidence to the tribunal, Lewis, who is Jewish, said he had received a 'tirade' of offensive messages from a 'who's who of Neo-Nazis', often attaching pictures of Auschwitz and threatening that he too should be gassed and killed.
'I was in a wheelchair and they were celebrating my disability and my future death,' said Lewis. 'I was being threatened by people and was not going to be bullied to go away. I am not a timid Jew, I am going to stand up and confront people and not be frightened.'
At one point, Lewis was assigned his own case officer by Twitter to handle the messages coming into him. One abuser has since been convicted of inciting racial hatred and her messages are cited in SRA training seminars as an example of anti-semitic communications.
The tribunal did not hear all the messages Lewis is alleged to have sent in reply, but one of his responses was: 'Happy to celebrate your death too. I have not got time for your hideous evil.'
The solicitor told the tribunal: 'They wanted to celebrate my death and my response had to be "there is two that can play that game".'
'If you want me to die then I want you to die yourself. I make no qualms about it… I didn't just go around telling people they should die and to f off. I was forced into responding – it seemed to me it might be something I could do to shock these people and say you are not going to take advantage of me.'
When some of the tweets from third parties were read out, Lewis said: 'Seeing them in black and white, I can't believe I am here having to answer this. It is disgraceful.'
The tribunal heard from an SRA investigator who confirmed she did not have access to the messages that had prompted Lewis's responses, which had come from accounts which have since been deactivated. No attempt had been made to gain disclosure of these messages from the High Court, and the SRA's case was presented with no context as to the messages Lewis had received.
The tribunal was due to decide on the staying application on Thursday before any substantive hearing. The case continues.