Rental electric scooters will hit the streets of London on Monday, as solicitors prepare for a rise in personal injury claims.
In the wake of regulations introduced last summer, a group of six London boroughs will trial e-scooter hire schemes for the next 12 months, with more areas expected to join the programme. Between 60 and 150 e-scooters will be available to rent in each borough initially, and operators may be authorised to increase their fleets if they show 'strong perfomance'. Hired scooters must be left in designated parking bays.
Transport for London said safety standards will be tougher than those set out at a national level, with a lower maximum speed of 12.5mph, lights at the front and the rear of the vehicles, and audible warning systems. Riders – who must keep to roads and in cycleways, rather than pavements – will also need to take an e-learning safety course before they hire for the first time.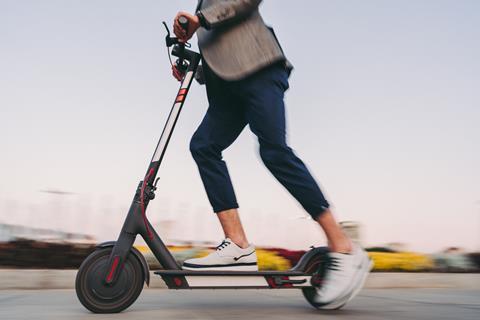 Under current legislation, it is illegal to ride privately owned e-scooters on public roads, though observations in London suggest the law is widely fouted. Offending riders face a £300 fine and six points on their licence. However, since 4 July 2020, local areas have been able to run rental trials for use on roads, cycle lanes and tracks. The trial end date has been extended to spring 2022.
National firm Roythornes Solicitors said the growing popularity of e-scooters has led to an increase in personal injury claims. 'Figures indicate around 70 injuries have arisen during the trial period so far,' said PI specialist Rob Dempsey. 'There are also reports of people riding the scooters whilst under the influence of drugs or alcohol. None of these can be a surprise and all were cited as potential risks before the trials began.'
Dempsey added that there is confusion around the legality of e-scooters and suggested a more uniform national approach is needed in relation to parking, speed and training.
London boroughs and areas participating in the scheme from from 7 June are: Ealing, Canary Wharf, the City of London, Hammersmith and Fulham, the Royal Borough of Kensington and Chelsea and Richmond upon Thames, while Tower Hamlets will be a 'ride through' borough. Lambeth and Southwark are seeking to participate in the trial.