An experienced solicitor who allowed his firm to act as a banking facility for someone committing tax fraud has been fined £30,000.
John Davis, sole practitioner with Buckinghamshire firm Davis-Law Associates since 1985, admitted acting for trusts and companies on the instruction of Rodney Whiston-Dew, a non-practising solicitor who was convicted in 2017 and sentenced to 10 years in jail.
The Solicitors Disciplinary Tribunal heard that SRA investigators found 17 client matters where Davis' firm appeared to have acted as a banking facility for clients introduced by Whiston-Dew. On 15 of these matters, there was no evidence of an underlying legal transaction being undertaken.
The tribunal was also told that, following Whiston-Dew's imprisonment, Davis acted in a potential conflict of interest when he became sole director of the fraudster's former company, which managed investments, as well as acting for investor clients to recover lost monies.
The tribunal said Davis had a 'misplaced belief in the honesty and integrity' of Whiston-Dew as well as a 'misguided intention' to help his victims.
'[Davis] was essentially treading his way through the mess caused by Mr Whiston-Dew in a way that was not planned or anticipated but which quickly began to unravel,' said the ruling. '[He] should have known better given his position in the firm and significant experience.'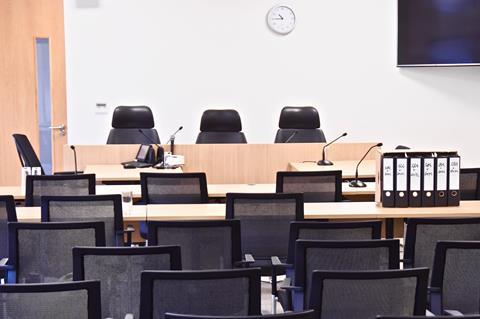 The SRA, prosecuting, said Davis had been aware when Whiston-Dew retired from practice that he provided consultancy services in offshore companies, trusts and tax affairs. Whiston-Dew, who had known Davis for 30 years, then asked him whether he could introduce clients to the firm as his consultancy did not have a client account. Davis told investigators he had seen no problem with this and even viewed it as a chance to safeguard clients' interests.
Davis, a solicitor since 1978, admitted the allegations against him relating to using his firm as a banking facility and acting in a conflict of interest.
In mitigation, he told the tribunal there was no suggestion he benefitted from the fraud and spent his entire career in practice without any incident or claim on his indemnity insurance. Since the investigation he had improved 'know your client' procedures and due diligence within the firm and carries out more rigorous anti-money laundering searches.
He had visited Whiston-Dew in prison to obtain information which could assist clients who lost money and said he had applied to be director of his company to protect their interests.
The tribunal fined Davis £30,000 and ordered him to pay £35,000 costs, ruling that the SRA's application for £61,000 costs was 'not reasonable and not proportionate to the case'.