The Solicitors Regulation Authority has confirmed it will not appeal the High Court's dismissal of the regulator's challenge against the decision to clear Leigh Day of misconduct.
Judges threw out the SRA's appeal last month over the decision of the Solicitors Disciplinary Tribunal to clear the human rights firm. No errors of law were cited by the SRA, it was ruled, and the divisional court said dissatisfaction on the part of the SRA with the tribunal's decision could not of itself be grounds for a successful appeal.
Speaking at a media briefing today, chief executive Paul Philip confirmed for the first time that the SRA will not challenge the High Court's decision in the Court of Appeal.
Philip said he had an idea of what the failed prosecution and appeal – funded by contributions from solicitors – have cost, but he refused repeated invitations to reveal the figure. It was estimated the SRA spent around £1.5m on the prosecution before the tribunal last year and a costs hearing to decide on the final figure is likely to be held next year.
Philip admitted he was 'disappointed' by the outcome but insisted the case against Leigh Day and three of its solicitors was properly brought.
'You win some and lose some – we win the vast majority of appeals against Solicitors Disciplinary Tribunal decisions and we lost one,' said Philip.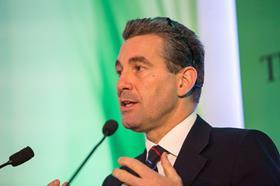 When it was put to him that this case, which lasted seven weeks and was the longest disciplinary tribunal in the profession's history, was more important than others, Philip said it was 'just another case'.
Philip denied the SRA's conduct of the case was influenced by the Ministry of Defence and said there was 'nothing to see' on this issue. Asked if he would therefore disclose emails and letters sent between the SRA and MoD, he replied: 'We are not publishing confidential correspondence. The fact is that we have ongoing policy discussions and disclosing correspondence would impede our ability to speak to government departments.'
Philip said the SRA would hold an internal review to learn from how it handled the case overall, but again the outcome of this would not be published.
Allegations against the firm and solicitors included personally endorsing claims against the MoD in a 2008 press conference, late disclosure of a key document, disposal of a translation of that document, unlawful payments to a third party and not acting on the use of the word 'bribe' in three emails handled by the firm. All allegations were found unproven, some by a majority ruling of the three-person tribunal panel. The SRA's appeal was dismissed in full.
Speaking last month, senior partner Martyn Day spoke of his relief at the court's findings and said the judgment would enable him to put his 'full energies' back into human rights work.