The Solicitors Regulation Authority (SRA) has come under fire for prosecuting a solicitor who was subject to a deluge of online threats and anti-Semitic abuse.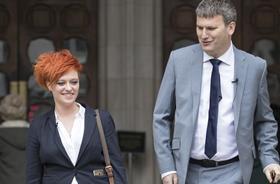 High-profile media lawyer Mark Lewis, who is Jewish, was fined £2,500 at the Solicitors Disciplinary Tribunal following a three-day hearing. He was found to have acted with a lack of integrity and to have failed to uphold the confidence the public places in the profession when he 'wished death' to abusers on social media.
Within two days of the judgment, Lewis's supporters had crowdfunded enough money to pay both his fine and a £10,000 costs order.
Lewis told the Gazette he has received more than 5,000 abusive messages from far-right organisations, including a death threat sent to his former firm and one to his home address.
The SRA took the unprecedented step of stating in its decision notice to prosecute him that it did not condone in any way the actions of any individuals involved in exchanges with Lewis.
The solicitor, who is taking advice on a possible appeal, said: 'It is incredible to be part of a profession that is more keen to prosecute the victim than defend. When the SRA had to choose between Holocaust-denying neo-Nazis and a Jewish solicitor it chose the neo-Nazis. It is on the wrong side of history. It has brought the profession into disrepute.'
Lewis said the moral and financial support of the legal community showed he is far from alone in believing the SRA's position to be 'absurd'.
Many lawyers took to social media to back Lewis. Simon Myerson QC tweeted that the SRA was 'covered in shame'.
'They picked on a Jew subject to racist abuse,' Myerson added. 'They punished him as a solicitor for responding to death threats.'
A spokesperson for the SRA said: 'We prosecute solicitors and their firms where we believe they have breached our standards. We believed that was the case here and the tribunal agreed with us.'