An experienced sole practitioner who made dismissive and rude comments about race and religion at a legal function has been struck off by the tribunal.
Victor Stockinger was also found to have failed to comply with two costs orders imposed on him and acted dishonestly when he provided misleading information to the SRA during its investigation.
Stockinger, who ran his own firm from central London, had denied all wrongdoing and blamed a 'woke' perception for misrepresenting what he had said. He has already lodged an appeal against the decision of the Solicitors Disciplinary Tribunal, although the strike-off order remains in place pending the outcome.
The tribunal heard that in June 2019, following a lecture at the Royal Courts of Justice organised by the Solicitors' Association of Higher Court Advocates, Stockinger made comments to various people about a number of subjects, including the Taliban, women and Africans.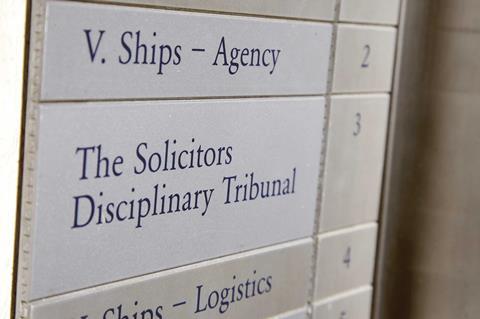 The SRA said Stockinger, who was a SAHCA committee member, was the subject of a complaint by an attendee of the event, who had described his behaviour as 'incredibly offensive, bigoted, sexist, racist and just morally repugnant'.
He told one legal executive from Afghanistan that she was wasting her time working in human rights in the UK when she could return to Afghanistan and educate the Taliban on terrorism. He questioned another woman when she said she was Jewish and said she was 'playing the religion or race card', then told a person of Congolese heritage that Africans were never any good at business and how Indians and Europeans made the Belgian Congolese civil.
Stockinger told the tribunal that the comments were intentionally taken out of context and that there was bad faith behind the complaint. He said that within context his comments were innocuous and/or inoffensive and submitted that the people he spoke to had added a negative spin to their 'woke' perceptions.
The tribunal rejected these submissions as 'self-serving rationalisations' and said his conduct was 'at best belittling, insensitive and patronising', with a racial motivation.
'This did not amount to 'wokeism' or any prohibition on discussing controversial or challenging topics robustly; it required of solicitors at least a basic level of civility and respect for diversity.'
Stockinger, who was admitted to the roll in April 1990, was also found to have failed to comply with two county court orders made against him for legal costs involving former clients against whom he had issued unsuccessful proceedings. Stockinger said he had been trying to recover unpaid legal fees and felt taken advantage of by both clients.
The tribunal found the solicitor had also provided a delayed, incomplete and inaccurate response to the SRA's investigation into these matters in order to buy time and avoid difficult regulatory scrutiny. Across all the findings, the tribunal found a 'pattern of non-compliance and obfuscation' over several months and that the protection of the reputation of the legal profession required that he be struck off. He was also ordered to pay £41,850 costs.