Human rights lawyer Phil Shiner has accepted his career is over as he faces one of the biggest disciplinary prosecutions ever brought against a solicitor.
Shiner, former director of closed Birmingham firm Public Interest Lawyers, has admitted fully or in part 18 out of 24 charges brought against him by the Solicitors Regulation Authority. The case has cost almost £500,000 to bring so far.
Shiner contacted the Solicitors Disciplinary Tribunal on the eve of today's case management hearing to say he admitted some allegations but denied dishonesty.
In his letter to the tribunal, Shiner, who ran claims on behalf of Iraqi civilians against British armed forces, said he accepted that the tribunal must strike him off. He did not attend today's hearing.
The details of allegations against him were revealed today after a long-standing anonymity order was lifted.
Shiner has admitted encouraging and authorising unsolicited direct approaches to potential clients arising out of the 2004 'battle of Danny Boy' through an individual referred to as Z. There are further admitted charges with relation to prohibited referral fees and improper fee sharing.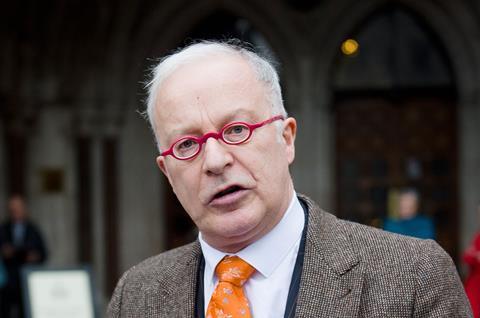 Shiner also admitted acting without integrity when authorising his firm to enter an agreement in June 2015 paying Z to change his evidence to the Al-Sweady inquiry. Shiner admitted a lack of integrity in further improperly presenting changed evidence from Z to the Solicitors Regulation Authority.
Shiner said he acted recklessly when making allegations at a 2008 press conference that the British Army had unlawfully killed, tortured and mistreated Iraqi civilians.
The solicitor does not admit to charges relating to payments made to clients in 2009 and 2010, or to the allegation that he authorised and approved payments he knew or suspected to be improper.
He does not admit failing to comply with his duty of full and frank disclosure to the Al-Sweady inquiry into allegations of mistreatment by British soldiers, and does not admit failing to comply with his duties over legal aid payments from the former Legal Services Commission to fund a judicial review.
The case management hearing laid bare the enormous scale of the prosecution. By 22 November this year, the SRA had spent £476,795 in costs, including £94,000 to pay for the investigation and £134,000 paid to external London firm Russell Cooke. The case involves 2,500 pages of documents – not including evidence – filling five lever-arch files.
Shiner's representative, Jayne Willetts, said her client was in ill-health and likely to be unrepresented when the contested allegations come to trial on 30 January, as her retainer is about to end.
She said the SRA had 'left no avenue unexplored in its pursuit of this case' and said Shiner suffered from an 'inequality of resources' compared with the regulator.
John Dickinson, a consultant at Public Interest Lawyers, denies one charge relating to updating clients on the progress of their case. He will be included in Shiner's substantive hearing, which is likely to last up to three weeks.
Details of the charges and Shiner's admissions have been posted on the SRA website.