A solicitor who served with the RFC and RAF in world war one gave his life as a part-time reservist
One of the most prominent names in the history of 600 Squadron, a unit of the RAF reserves, is that of Stanley Beresford Collett, who commanded the Squadron briefly during the 1930s. The Squadron has a ceremonial flag named in his memory, and is based on a road named after him at RAF Northolt in West London.

However, Collett didn't lose his life in the Great War, but in tragic circumstances during peace-time service.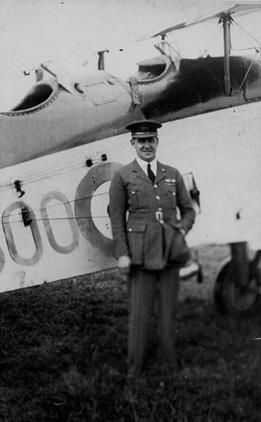 Stan was the 2nd son of industrialist Sir Charles Collett and was born in 1896. He was educated at Bishop Stortford College where he excelled at sport and music. In 1913, he had left school and had been taken on as an articled clerk in a small firm in Peterborough. Soon after, he was moved to the town Council where he became town clerk. His typical career was interrupted by the events of 1914.

At first found unfit for service in 1915, he persisted until he found his way into the Durham Light Infantry – however, this must have lacked the excitement he sought as by 1917 he had transferred into the Royal Flying Corps – by then desperate for men to replace the terrible losses in the air.

Holding a number of positions within the newly formed RAF, he ended up flying with a daylight bomber force where he was ultimately under the command of a young Arthur "Bomber" Harris. The RAF was pressing forth with daylight bombing raids, in biplanes, deep into Germany. On all accounts the missions took a heavy toll and Stanley was lucky to survive.

His military records show him leaving the RAF in 1921. He went on to join the GWR as assistant solicitor before being appointed as assistant secretary to the company. However, the Auxiliary Air Force had been formed in 1925, and was actively trying to recruit professional young men, particularly those with a flying background. Stan joined in 1926. Ultimately, in 1931 he was promoted to the rank of Squadron Leader and appointed to command 600 Squadron. Formed almost entirely of part-time pilots and ground-crew, the unit drew heavily on the professions and included many barristers and solicitors at various times – all who gave their spare time to fly and maintain aircraft in preparation for full-time service if needed.

Sir Charles Collett was made Lord Mayor in November of 1933. But tragically, Stanley was killed during a routine flight at the Hendon Empire Air Days in 1934. The bi-plane he was flying in crashed on take-off in full-view of his family and spectators before bursting into flames. Despite desperate attempts to save him, he probably died from the impact. The City stopped in July 1934 for a military funeral at St Pauls Cathedral – where Stanley's coffin was born by the Commanding Officers of the other RAF Reserve units.

Today, Stanley's unit has at three practitioners, all serving in the ranks. They dedicate their spare-time, as their predecessors did, to training alongside the regular RAF so that they can contribute and support the UK Forces.

Senior Aircraftman Stuart Edwards who is also a solicitor and has been the Squadron archivist among other duties said:

"There is a proud tradition of voluntary military service from within the legal profession, and I'm proud to be part of an unbroken chain that the Royal Air Force Reserves can trace directly back to our predecessors in the Great War"

"I have had to sacrifice a lot, professionally and personally, but I've also been able to contribute a great deal through being a reservist. However, I'm constantly aware that others, like Sqd Ldr Collett have had to make even greater sacrifices; not only in war, but also in peace time".

600 (City of London) Squadron is part of the Royal Air Force Reserves and has been based at RAF Northolt since 1999. Formed in 1925, around a core of great War veterans, the Squadron scored great successes in WW2 where it flew in the Battle of Britain, the Blitz, over North Africa and then at Anzio and Salerno. The Squadron became the highest scoring night fighter unit in RAF history; while still manned by pre war, part-time airmen. Disbanded while flying jets in 1957; the modern unit trains a pool of volunteer part-time officers and airmen in non-flying trades. They support their regular colleagues in British operations in the UK and beyond. The Squadron has contributed to actions in Iraq, Afghanistan, and Libya and further afield. The unit is actively recruiting in all trades – including for legal officers.

Stuart Edwards was called to the bar in 2003 and was admitted as a practicing solicitor in 2010. He practices in employment and general litigation with QualitySolicitors Harris Waters in Ilford. He has been a part-time airman with 600 Squadron since 2009 and has contributed lengthy periods of full-time service in various operations management and air traffic roles including during the Olympic Games. His last role saw him spending over a year contributing to the planning team for RAF air transport – a position that ended this January. His grandfather and father also served in the RAF.