Browse the magazine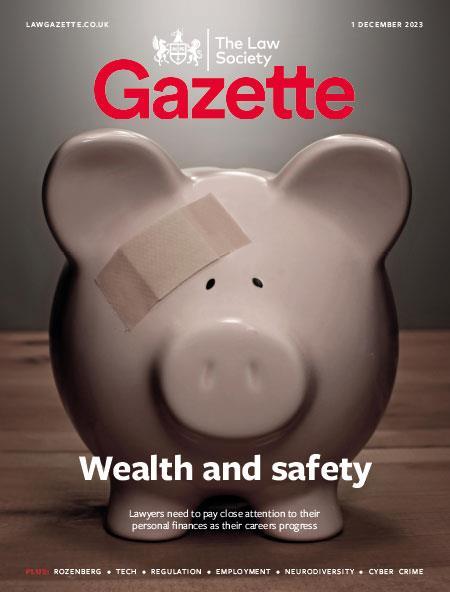 The Gazette offers you up-to-the-minute national and international news, opinion, features, in-depth articles plus a jobs and appointments section.
Please click the link below for a digital edition
Download the latest issue
Law Society Gazette
The Law Society Gazette is the leading legal magazine with a digital edition, daily email update and a website boasting almost two million monthly impressions – connecting you with more solicitors than any other legal title.

With cutting-edge breaking news coverage, analysis, and commentary in print and online, and a daily enewsletter (the Gazette Daily Update) to almost 160,000 recipients, the Gazette enables our advertising partners to reach the widest legal audience.
Display advertising
Promote your brand, products, and services with various options to suit your budget and marketing objectives, ranging from double page spreads through to solus strips, with additional opportunities such as roundtable events and thought leadership content.
Contact the advertising team on 020 8049 4000
Online advertising
Gazette online provides breaking news and exclusive content. With a variety of positions and sizes available and the opportunity to feature in the daily enewsletter, it enables you to connect with a vast, engaged legal audience.
Contact the advertising team on 020 8049 4000
The Directory is accessed through the Gazette website and includes categories such as expert witnesses, training providers, and general legal services. It is an essential choice for any organisation wishing to promote services in the legal sector.
Contact the advertising team on 020 8049 4000
The Gazette's Charity Explorer is a reference tool and database for will-writing solicitors and their clients to support legacy donations. We also publish printed editions of the Charity & Appeals Directory.
Please download our latest brochure for more information.>
The Law Society Magazines
Advertising is also available in Law Society sections magazines. These are subscription based and often used to reinforce advertising in the Gazette and include: Property in Practice (Property Section), PS (Private Client Section) and Managing for Success (Law Management Section) these provide best practice information and advice on relevant topics.
Contact the advertising team on 020 8049 4000
Litigation Funding
Published six times a year and read by subscribers who are involved in the funding, costs and litigation process, including practitioners, costs draftsmen and insurers, this magazine offers a definitive guide to the funding process, updating readers on the financing of litigation as well as essential costs.
Contact the advertising team on 020 8049 4000