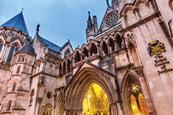 Burford Capital's high-profile run-in with a short-seller has put litigation funders – and their suitability for listing – in the spotlight. Rachel Rothwell reports

DWF's pioneering listing on the London Stock Exchange raised £95m and transformed the firm into a global player. Rachel Rothwell goes behind the scenes to discover how the firm reinvented itself

When a promising military career is cut short by injury, fighting for compensation to rebuild your life can be a process fraught with obstacles. Rachel Rothwell speaks to the solicitors who act for service personnel

Cash-strapped law centres are tottering under the growing burden of unmet legal need. Could lawyers do more to help? Eduardo Reyes reports

Master Peter Haworth hopes e-bills will be introduced to lessen the workload of the Senior Courts Costs Office, but this won't be any time soon.

Crowdfunding is a rapidly expanding method of sourcing legal challenges. But is the cash wasted on claims that have no merit and are donors unwittingly exposing themselves to financial risk?

With cash pouring into third-party funding, law firms are well-placed to enter the market and provide capital at lower rates. But they need to take heed of the risks.