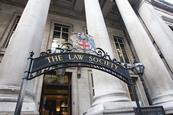 Because of the pandemic this was Council's first full meeting conducted remotely.

Coronavirus is already creating a raft of contractual and insurance disputes, with far-reaching consequences for the economy.

Burford Capital's high-profile run-in with a short-seller has put litigation funders – and their suitability for listing – in the spotlight. Rachel Rothwell reports

DWF's pioneering listing on the London Stock Exchange raised £95m and transformed the firm into a global player. Rachel Rothwell goes behind the scenes to discover how the firm reinvented itself

When a promising military career is cut short by injury, fighting for compensation to rebuild your life can be a process fraught with obstacles. Rachel Rothwell speaks to the solicitors who act for service personnel

Cash-strapped law centres are tottering under the growing burden of unmet legal need. Could lawyers do more to help? Eduardo Reyes reports

Master Peter Haworth hopes e-bills will be introduced to lessen the workload of the Senior Courts Costs Office, but this won't be any time soon.