Litigation Funding magazine provides accurate and in-depth coverage and comment on the complex issues of financing litigation and costs.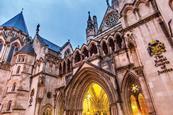 Latest ruling in dispute between two solicitors going back at least seven years.

Law firm had sought to recover fees after client did not authorise issue of any proceedings.

Milberg Ltd allowed more than £3m to improperly pass through client account.

Landmark report shows economic gains from five highest-value projects in recent years exceed £3bn over 10 years.
Regulator faces £137,000 legal bill after high profile prosecution of firm and three former leaders.

Costs recovery lawyers hail decision in High Court as potential win for millions of former PI claimants.

The validity of 10-year-old guideline hourly rates is coming under fresh scrutiny, with costs lawyers regularly arguing against them and even a costs master admitting they are 'barely even a starting point' for City firms.