Litigation Funding magazine provides accurate and in-depth coverage and comment on the complex issues of financing litigation and costs.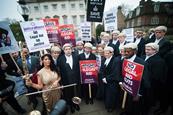 James Cartlidge MP says response to independent review is too important to rush.

Trust said 'baton of responsibility' had passed to counsel in 'groundbreaking' case.

Pages of prosecution evidence are used to determine how much defence solicitors are paid.
Criminal legal aid review chief tells MPs solicitors have seen fee cuts 'for as long as anyone can remember'.

Government given until Valentine's Day to commit to substantially increasing legal aid funding.

New Land Registry charges will apply to applications submitted on or after 31 January.

Ministry of Justice announces further £1.2m of vouchers to keep family disputes away from court.