UK arms sales to Saudi Arabia have been ruled unlawful by the Court of Appeal following a challenge by pressure group Campaign Against Arms Trade.
Giving judgment this morning, the court ruled that 'the process of decision-making by the government was wrong in law in one significant respect' connected to the ongoing conflict in Yemen.
Part of the legal test for the granting of arms sales licences obliges the exporting state to consider 'the recipient country's attitudes' towards the principles of 'international humanitarian rights instruments' and international human rights law. EU member states must refuse an export licence 'if there is a clear risk that the … equipment might be used in the commission of serious violations of international humanitarian law'.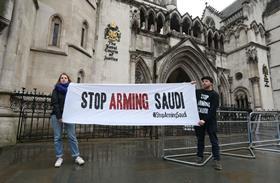 Overturning a High Court ruling , the appeal court determined that the error of law concerned that 'clear risk … of serious violations'. Master of the rolls Sir Terence Etherton, sitting with Lord Justice Irwin and Lord Justice Singh, said the government had 'made no concluded assessments of whether the Saudi-led coalition had committed violations of international humanitarian law in the past, during the Yemen conflict, and made no attempt to do so'.
The appeal court stressed that its decision does not mean that licences to export arms to Saudi Arabia must immediately be suspended. But the government must 'reconsider the matter, must make the necessary assessments about past episodes of concern, allowing for the fact that, in some cases, it will not be possible to reach a conclusion. The government must then estimate the future risks in light of their conclusions about the past.'
A spokeswoman for Prime Minister Theresa May told the BBC that the government was 'disappointed' and would be seeking permission to appeal. Trade secretary Liam Fox is expected to make an emergency statement this afternoon.
Andrew Smith of Campaign Against Arms Trade said: 'We welcome this verdict but it should never have taken a court case brought by campaigners to force the government to follow its own rules.
'The Saudi Arabian regime is one of the most brutal and repressive in the world, yet, for decades, it has been the largest buyer of UK-made arms. No matter what atrocities it has inflicted, the Saudi regime has been able to count on the uncritical political and military support of the UK.
'The bombing has created the worst humanitarian crisis in the world. UK arms companies have profited every step of the way. The arms sales must stop immediately.'