Stakeholder group assisting the government says new form will deliver 'one source of truth' about a property.

Report to land on ministers' desks next month revealing how well estate agents are doing on transparency.

Land Registry hopes to have 15 local authorities signed up to digital register by April.

Law Commission says it received hundreds of differing views from leaseholders and landlords.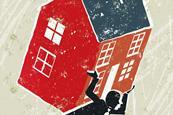 From fighting money laundering to keeping an eye on dodgy estate agents, the regulatory burden on conveyancing solicitors is growing. Marialuisa Taddia reports

Clarity on immigration advice and tackling domestic abuse: your letters to the editor.

'If the SRA hopes to change the way legal advice for immigration is provided, it first needs to draft clear guidelines': your letters to the editor.