Sole director is one of those claiming for lost monies, as he goes on to run unregulated legal business.

Partner failed to advise clients about 'obvious pitfalls' of off-plan developments.

Practitioner said he was acting in client's interests and planned to get retrospective approval.

South Wales litigation solicitor 'reluctantly' agrees to be struck off over misleading mediation statements.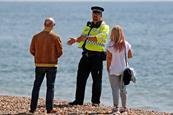 Ordinarily the regulator is not overly interested in fixed penalty notices. But these are not ordinary times.

Regulator could learn from the American Bar Association's response to the crisis.

History shows that innovation happens despite, not because of, what is wanted by the great and the good.

The Solicitor's Handbook 2019 | Gregory Treverton-Jones QC, Nigel West, Susanna Heley and Robert Forman.

The regulator has trusted solicitors to flourish in the absence of restrictions - now it's a case of hoping it works.