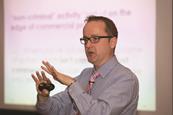 Even where the motivations of clients and funders are altruistic, lawyers should 'exercise independent judgement', report for LSB states.
Practice management

Almost half the money agreed as part of the Ince acquisition remains outstanding, administrator reveals.

For the first time, responsibility is flipped onto a firm to take action proactively, rather than to wait and see if any crisis emerges.

Andrea and Charlotte Fogg said there was no question of letting Liverpool firm close down.

Law Society president Nick Emmerson says disabilities should not preclude entry into the legal profession.

Report suggests environmental, social and governance is becoming an increasingly important metric to measure success.