Partner, Hogan Lovells, London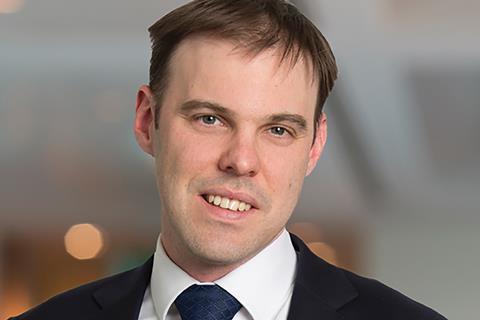 Who? Nathan Searle, partner, Hogan Lovells, London.
Why is he in the news? Led a team that successfully represented a 99-year-old war widow in the Court of Appeal. Her spouse had died while serving in the armed forces in the second world war. The case involved a point of statutory interpretation involving complex changes to armed service pensions legislation over a period of nearly 40 years.
Thoughts on the case: 'The case was significant because there are two other cases for widows in the same position as our client. Under the pensions rules at the time, our client's war widow's pension ceased when she remarried, but as a result of subsequent changes to the pensions order she was entitled to have it restored when her second husband passed away in 2000. She was unaware of this and delayed claiming her restored pension until 2014. We argued that the relevant pensions order required [the] backdating [of] our client's pension entitlement to 2000. The court dismissed the secretary of state's appeal, resulting in a significant payment to our client. We acted pro bono as part of our partnership with Royal British Legion and I had the opportunity to argue the case before the Court of Appeal as a solicitor-advocate.'
Dealing with the media: 'Many of my cases are resolved through commercial arbitration, which is usually confidential, so I am generally unable to discuss details of my cases with the media. However, when dealing with large cases, we often work closely with our client's public and investor relations team to ensure that our clients comply with their duties to make public announcements to keep the markets informed while also maintaining the confidentiality of the arbitration process.'
Why become a lawyer? 'What we do as lawyers has a real impact in our communities. The cases I have been involved in have helped me make a difference, whether representing clients in arbitrations whose outcome will shape industries for many years to come, representing government entities to protect taxpayers' funds, seeking to set aside contracts procured illegally, or undertaking pro bono cases for veterans and their widows to ensure they receive the benefits to which they are entitled.'
Career high: 'Working on bet-the-company cases, where I get the opportunity to engage with business executives who are at the top of their profession. These cases involve working with a team of talented lawyers and I always enjoy hearing different perspectives on the case and having my thinking challenged by team members at all levels.'
Career low: 'Food poisoning in East Africa. My role as an international disputes lawyer enables me to travel to interesting places and experience different cultures, but things don't always go to plan.'