The police have an important role to play at the time of a pandemic when social distancing and self-isolation are so important. However, any action they take must be proportionate, transparent and, above all, lawful. Anything else will erode public confidence in the police and make their job more difficult.
Take the case of Marie Dinou. British Transport Police admitted that they had wrongly charged her under coronavirus legislation. Dinou was arrested at Newcastle Central Station on 4 April after she refused to tell police why she needed to travel. A few days later, a police and Crown Prosecution Service review said she was wrongly charged. The court will be asked to set aside Dinou's conviction and fine of £660.
This is not the only incident of the police overstepping the mark. Readers may recall the footage of a couple walking their dog in the Peak District. The video was filmed by a Derbyshire Police drone and broadcast to the nation on BBC News. According to Derbyshire Police's Twitter feed (which broadcast the same 90-second footage), the force wanted to reinforce the government message of 'stay at home', and to point out this was not getting through by effectively shaming the dog-walking couple.
There is a strong argument that Derbyshire Police's use of a drone to film the couple and broadcast the footage was a breach of UK data protection legislation in the form of the General Data Protection Regulation (GDPR) and part 3 of the Data Protection Act 2018 (DPA). Images of individuals constitute personal data where it is possible to identify them from those images. It is entirely possible that the couple could be identified by their clothing, hair colour and dog.
The processing of personal data must be lawful by reference to a condition in Article 6 of GDPR. Arguably the processing here is necessary for a 'task carried out in the public interest'. However, one would have to ask why it was necessary to film and broadcast the couple, especially when they did not actually break the law. The Health Protection (Coronavirus, Restrictions) (England) Regulations 2020 do not prohibit dog-walking, even if (which is not clear) the couple were not doing it 'locally'.
Even if the police could identify a lawful basis for their processing, GDPR requires the processing of personal data to be fair. ICO guidance states that data controllers should only process data in ways that people would reasonably expect and not use it in ways that have unjustified adverse effects on them. It is highly unlikely that anybody walking their dog in an isolated part of the Peak District would have any reasonable expectation of being secretly filmed by a drone, and that their images would then be broadcast to the nation in an attempt to shame them.
GDPR also requires transparency when processing personal data (Articles 12-14). This means data subjects should be made aware that their personal data is being processed and why. There does not seem to be any evidence that Derbyshire Police did this.
It could be argued that the police in this case were processing personal data for law enforcement purposes, so part 3 of the DPA applies rather than GDPR. However, the police admitted that the filming was for the purposes of 'getting a message out'. This does not fit easily within the definition of 'law enforcement purposes' under section 31 of the DPA. At best the police could attempt to argue that the processing was for the purposes of preventing threats to public security, but it is difficult to see how this would succeed when it was just a couple walking their dog on an isolated stretch of path. In any event, part 3 of the DPA places similar requirements to GDPR in terms of ensuring legality, fairness and transparency.
Finally, Derbyshire police should have had due regard for the information commissioner's tips on responsible drone use. It cautions that drone users should avoid sharing images that could have unfair or harmful consequences for the subjects. There is also little evidence that the police had due regard to at least the first three guiding principles laid down in the Surveillance Camera Code of Practice, or that they conducted a data protection impact assessment as required by GDPR and DPA.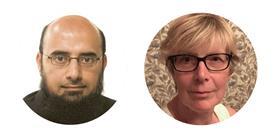 The video has sparked much criticism. Civil liberties campaign group Big Brother Watch described the move as 'sinister and counter-productive'. In BBC Radio 4's World at One, former Supreme Court justice Lord Sumption said the police have no legal power to enforce government guidance about non-essential travel. He went further: 'This is what a police state is like, it is a state in which the government can issue orders or express preferences with no legal authority and the police will enforce ministers' wishes.'
Ibrahim Hasan, Susan Wolf