'When the going gets tough, the tough get going.' This was apparently the personal motto of American football coach Frank Leahy and also a favourite saying of Joe Kennedy, father of president John F.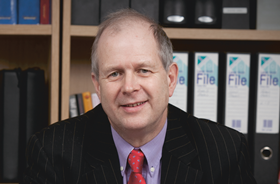 Local government has certainly been going through tough financial times in recent years. As the Local Government Association highlighted in its October 2018 budget response: 'Local government in England continues to face significant funding gaps, and rising demand for adult social care, children's services and homelessness support will continue to threaten other services our communities rely on, like running libraries, cleaning streets and maintaining park spaces.' Councils 'continue to face huge uncertainty about how they will pay for local services into the next decade and beyond'.
But, as the Local Government and Social Care Ombudsman makes clear in a constructively trenchant report, Under Pressure – the impact of the changing environment on local government complaints (December 2018 – the report), diminished resources are no excuse for bad service, poor customer communication and dysfunctional delays.
Back in 1580, English writer John Lyly offered the timeless advice to 'cut thy coat according to thy cloth'. In local government terms this must mean designing mandatory and discretionary service levels within available resources. However, this must be done fairly and transparently in the light of identified service-user needs. For often, when we stand close to an issue, it is hard for us to see it objectively from the service-user standpoint. The report therefore does local government and its users a good service, by highlighting in various case studies just where things went wrong and what strategic steps authorities can take to avoid adding to the museum of user misery.
The report highlights the following themes to which authorities should be alert where ineffective change-planning can lead to local service failure. These are accommodating longer backlogs; reviewing eligibility criteria; using new partnerships and delivery arrangements; and restructuring and redesigning services. Each drills down further in the light of informative case studies. So, for instance, in dealing with longer backlogs, the ombudsman looks at what steps a council has taken to explain what is happening and to anticipate and respond to increasing pressures.
Reviewing eligibility criteria is divided into the following five considerations, illustrated by practical case study examples. The first is ensuring that the new service standard is lawful. In doing so, sources of advice on governance and the law should be taken into account at a formative stage. Local authority monitoring officers, with their profound insight into these areas, are fundamental to sound practice here. The second is ensuring that decisions about service provision are based on assessed needs rather than resource-driven. The next is properly consulting on and communicating intended changes. This involves consulting relevant service-users and stakeholders, giving users fair warning of changes, and avoiding unexpected reductions in resource or support. The fourth requires frontline staff to be suitably informed so they can advise and inform service-users effectively and appropriately. As the report indicates, major changes in policies, thresholds and charging can often be poorly communicated to frontline staff. Improved handbooks, guidance notices and regular training for frontline staff can assist. The fifth is properly explaining and justifying decisions. For record-keeping and clear, evidence-based decision-making this is always important, but it is particularly critical when councils implement new policies.
Delivering services through new organisations, partnerships and commercial arrangements highlights two key considerations: (i) properly managing contractors; and (ii) ensuring the local market is sufficiently developed to provide necessary services. As the report notes, the ombudsman holds authorities to account for the actions of organisations working on their behalf. So while councils are entitled to outsource services, they cannot contract out responsibility for that service. So, 'where appropriate in our investigations we also name contractors and organisations providing services on behalf of councils – particularly if we believe recommendations to consider contracting arrangements can improve the service and prevent further injustices'. So contractors also beware.
Restructuring and redesigning services is a common approach for local authorities looking to extract more from less by reducing waste, lowering overheads and improving service-delivery focus. But restructuring and service redesign is no excuse for service shortfall. So effective management of change should mean the risks to business continuity are properly assessed and mitigated. Frequent staff changes, loss of corporate memory and lack of continuity of contact with vulnerable service-users are significant issues. However, also highlighted is the excellent opportunity to use insight from complaints as a tool for improvement.
The report annexes a handy checklist of things to avoid – a valuable tool for all service and strategic managers. This is accompanied by a question list for councillors and scrutiny committees. These committees are also advised to review complaints information. The appendix has the case study collection with summaries and links to the full reports, so managers can learn from where colleague authorities went wrong.
Published alongside the report are updated principles of good administrative practice. There are six headline themes: getting it right; being service-user focused; being open and accountable; acting fairly and proportionately; putting things right; and seeking continuous improvement. Each has brief bullets elaborating the principle and what it looks like on the ground.
Operating effective user-responsive services in a financial storm is certainly not plain sailing. But as American actress Mae West once said: 'I never said it would be easy, I only said it would be worth it.'
Nicholas Dobson is a consultant at Freeths