The Supreme Court should be abolished in its current form and have its functions carried out by judges from the Court of Appeal, a right-wing think tank has argued.
In an essay for Policy Exchange, Derrick Wyatt QC, Emeritus Professor of Law at the University of Oxford, said the Supreme Court displays 'excessive judicial activism', 'institutional hubris' and and has a tendency 'to endorse outcomes which conventional legal reasoning would struggle to sustain'.
'If there is a problem with the judicial approach of the UK Supreme Court, I think it is its willingness on occasion to decide cases on policy grounds, without disclosing an adequate or convincing legal basis,' Wyatt said.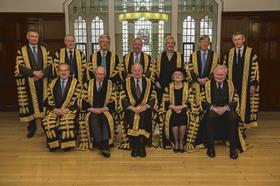 The Policy Exchange paper argues that the Supreme Court should be abolished and have its functions carried out by panels of five or more judges assigned on a case by case basis from judges in the Court of Appeal of England and Wales, the Court of Appeal of Northern Ireland and Scotland's Inner House of the Court of Session.
Wyatt suggested the court could be named the Upper Court of Appeal or the UK Final Court of Appeal and sit in the current Supreme Court building, with the option to sit in Belfast, Cardiff and Edinburgh.
'The result of the above change would be to broaden the judicial base of the final court of appeal, and to ensure that all judges sitting at the final stage of appeal were also judges deciding cases at the level below that final stage, and so remained accustomed to the discipline of writing judgments which would be subject to the scrutiny of their fellow judges,' he said.