The Kray twins had a number of lawyers. They included the Welshman Tommy Edwards, uncle of Gazette contributor Anthony. 'He was a right old gentleman. I don't know why they left him,' one East Ender told me. 'I think he was too straight for the twins.' Tommy Edwards' successors included the redoubtable Ellis Lincoln and John Wheater, the solicitor who went down for his part in the Great Train Robbery.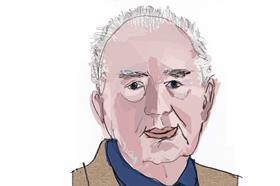 But the man they stuck with longest was Manny Fryde, a managing clerk with a Ludgate Circus firm. Fryde's pedigree was never clearly established. He probably qualified as a solicitor in South Africa and may or may not have been struck off there (opinion is divided). By the 1950s, however, he was working in England as a managing clerk – and an exceptionally powerful one at that.
A passionate Zionist who kept a list of known Blackshirts and sympathisers under his office carpet, Fryde once visited the home of a client charged with murder and found a swastika painted on the ceiling. Fryde threatened to withdraw from the case and it took much persuasion for him to accept that the swastika was nothing more sinister than a symbol of light drawn by an old tenant.
Fryde was a heavy gambler and a clerk who worked for him remembered: 'He never carried less than £5,000 on him. One time he sent me to a small shop opposite the law courts and I handed in the winning ticket. The girl went for the manager, who asked who I was from. I said Fryde and he said, "Here's the money and tell the b*stard not to come in the shop again." It was £12,000.'
Some years after the Krays were convicted, with the shades of the prison house closing, Fryde took advice from a leading silk and caught the night plane to Majorca.
James Morton is a writer and former criminal defence solicitor