Few people consult lawyers for fun. Even fewer visit a court for entertainment. What makes the experience all the more difficult for many disabled people is anxiety about what the access will be like at a firm's office, a chambers or in court. 'Where will I park? What is the surface of the car park like? If I'm a disabled walker and it's cobbled, do I need to park somewhere else? How far do I need to walk? Are there dropped kerbs? Will I be able to access the lavatory?' These are all common worries.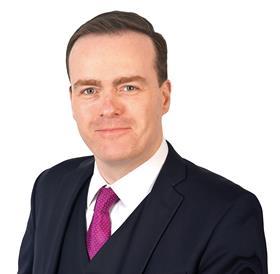 A wheelchair user coming by train has a logistical mountain to overcome. Just buy a ticket and get on the train? Hardly. You've got to book assistance to organise a ramp on and off – leave less than 24 hours' notice and it will be hit and miss. 'Have you booked assistance?' is a familiar, often accusatory, refrain when arriving at a station. Often the answer is an incoherent mumble, a bright smile and an appeal to the good nature of platform staff because 'I only got instructions last night' or 'I didn't know what time we would be finished at court', which do not tend to go down well.
Travelling by train can be particularly stressful if your stop is part-way through the journey. 'Will a ramp appear for me to get off?' Once you're at your destination, the challenge continues. In most cities, that will mean taking a taxi. Finding a taxi able to transport a wheelchair user can be hard, but throw British weather into the mix – well, trying to find any taxi in the rain at rush hour is difficult. Despite all of this, you need to arrive at court exuding calm and poise – try doing that when your train carriage had a broken lavatory and you couldn't access the toilet in the next one.
At court, it doesn't become easier. In my experience, getting into most courts is usually OK. But navigating old buildings with heavy doors and small lifts while carrying files, books and a laptop is the sort of challenge you expect to endure during a 'personal growth' away day in Slough – lengthy, time-consuming and exhausting. Nottingham Crown Court, for instance, has incredibly heavy internal doors off the lift. Navigating them as a solo wheelchair user is almost impossible. As a junior I was almost sent to Lincoln Crown Court before someone mentioned that the accessibility there was particularly dreadful, thankfully saving me a wasted trip. Ashford Employment Tribunal's lift is too small for wheelchair footplates to be attached. And there is no reliable way to check what access is like before you go somewhere new.
Despite courts obviously needing to be accessible for all, courts can be very inaccessible, particularly to disabled people. Disability access is often a late afterthought or even non-existent.
So it's hardly surprising that for many disabled court users, the emergence of virtual hearings brought relief – no travel worries, no lavatory anxiety, no getting stuck between doors; in short, for many disabled people, a distinct improvement in the accessibility of the legal system. So are virtual hearings the solution?
Unfortunately, remote or virtual hearings are no panacea. Earlier this year, the four bar councils of the UK and Ireland recognised virtual hearings have benefits but present 'very considerable challenges to effective advocacy'. The statement continued: 'We are supportive of remote hearings becoming the default position for short or uncontroversial procedural business. We recognise that the appropriate use of remote hearings will be vital in tackling accrued backlogs in each of our jurisdictions.
'However, for any hearing that is potentially dispositive of all or part of a case, the default position should be "in-person" hearings. Remote hearings should be available as an option in such cases where all parties (including the court) agree that proceeding in that way would be appropriate.'
The Equality and Human Rights Commission has highlighted concerns about the impact of conducting cases without defendants being present in court, saying: 'Video hearings can significantly impede communication and understanding for disabled people with certain impairments, such as learning disability, autism spectrum disorders and mental health conditions.'
David Isaac, the commission's chair, has said: 'Equality before the law means that no one defending or bringing a case to court should be disadvantaged because they are disabled.' That principle has to be correct, but unfortunately it applies to in-person hearings too. Furthermore, our appreciation of disabled court users has to go further than claimants and defendants and include court staff, solicitors, counsel, experts and the judiciary.
This is a problem that has yet to be successfully grappled with. Why does it matter? Because access to justice matters. Because a diverse profession matters. Some 19% of the working age population have a disability, yet only 3.1% of barristers declare having a disability.
Disabilities are acquired as people age, and we have an ageing society. Therefore, these problems are not going away and will affect more and more people over the coming decades.
Access to justice for disabled people – be that in courts, firms or chambers – cannot remain an afterthought or be patched over with a sticking plaster solution – the tide of demography is against the status quo. The pandemic has caused all of us to think differently about how we provide services and how we – disabled people included – access them. Reasonable access requires investment which has yet to be forthcoming. It requires changes to the built environment and to policies, the ready and easy provision of auxiliary aids, and consideration of how virtual and hybrid hearings and conferences could be improved to meet the diverse needs of the people we serve. Courts, chambers and firms need to publicise how those with mobility restrictions can access and navigate their buildings, so they're not expected to problem-solve on arrival. Remote access to training and professional development should be standard. The perspectives and voices of disabled people need to be involved in forming solutions. This work is urgent, important and needs to begin now.
Dr Gregory Burke is a barrister at 7BR, London