Bromley's Family Law (12th edition)
Nigel Lowe, Gillian Douglas, Emma Hitchings & Rachel Taylor
£44.99, Oxford University Press
★★★★★
How do you review a revered textbook? I normally try to read the entire book that I am reviewing but that is impossible with a work like Bromley's. All you can do is dip into it.
It is six years since the last edition of Bromley's Family Law was released. A lot has changed in family law in this period and Bromley's ably covers this.
My first question was who the book was aimed at. The answer in the publicity materials is that this tome 'remains the most authoritative textbook on the subject and has been used by generations of both students and practitioners as a reliable source of guidance'. I cannot disagree.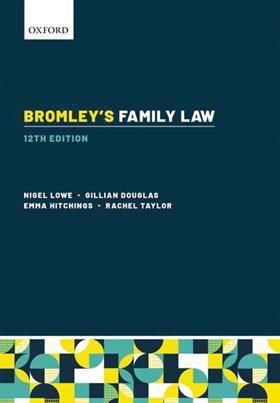 Although certainly a textbook for the practitioner, this edition is reorganised and streamlined with family law students in mind. An academic contact of mine felt that the sort of student it aimed at was the advanced thinker. She liked the fact that previous editions have been written by two very experienced academic lawyers, Nigel Lowe and Gillian Douglas. For this edition they are joined by two further distinguished authors, Emma Hitchings and Rachel Taylor.
One thing that Bromley's does is to put family law in context. Hence there is a chapter on trends in this area, covering the growth of non-marital cohabitation, the greater recognition of same-sex relationships and the shift in emphasis from past fault to future needs in divorce financial remedies cases. The book covers family law holistically, hence there is significant reference to the work of the Law Commission, including in its work on divorce and matrimonial property, needs and agreements. Mention is made of messages from research.
This book is logical and user-friendly. The work, totalling 896 pages including the index, is split into two sections: chapters one to nine cover adult family law, and chapter 10 onwards deals with child law. Oddly, the section on child support is found in the first section which contains an item on Schedule 1 to the Children Act 1989 running to six pages. In the second section on child law there are references to surrogacy agreements and parental orders, as well as more usual children aspects.
The text is clear and well-presented. Key quotes and extracts are highlighted for ease of reference.
Situating the subject in its UK and international context, this edition pays particular attention to the international elements of child law, considering the cross-jurisdictional issues of the subject. It features a new chapter on the Hague Convention on the Protection of Children 1996, as the now pre-eminent international instrument on jurisdiction, recognition and enforcement
The work traces the path of divorce reform, outlining the involvement of the Law Commission and discusses the Family Law Act 1996. Bang up to date, it features a section on the Divorce, Dissolution and Separation Act 2020 which is short yet thorough.
Since the book was written, the Domestic Abuse Bill 2021 was enacted, and the writers were able to provide more than just a sketch of the bill's features, which is very helpful in getting a good grasp of its final enactment.
Adjectives such as 'accessible' and 'readable' spring to mind when describing this book. It lends itself to being dipped into. Authoritative without being didactic, Bromley's is a perennial favourite.
Tony Roe is a family law solicitor and arbitrator at Dexter Montague LLP, Reading