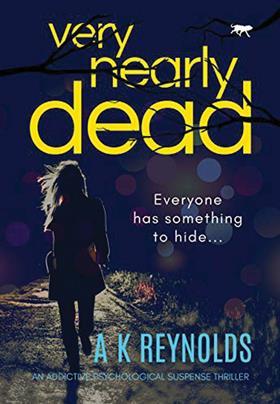 Very Nearly Dead
A K Reynolds
£8.99, Bloodhound Books
★★★★
As a lover of Raymond Chandler (for me the master of 'noir'), I jumped at the chance to review a noir thriller by A K Reynolds.
The 'author' is suitably enigmatic for this type of novel, being (apparently) a husband and wife team – the 'A' being Andy and 'K' Kath who eschews publicity. Interestingly, 'A K Reynolds' is an anagram of 'Lord Sankey', a High Court judge and one time lord high chancellor of Great Britain. He is famous for iterating the duty inherent on the prosecution to prove the prisoner's guilt in the judgment from Woolmington v DPP usually referred to as 'the golden thread'.
The book itself plays on and amplifies the fears of lawyers up and down the country. You go to work, you pay your mortgage, you are good at your job; you get results for your client but none of it seems quite right and then something happens. Something which threatens your whole life, your career, your family. Would you do the right thing? Are you sure?
Very Nearly Dead crashes headlong into this question, through a suitably noir haze of booze, drugs and criminals in shady streets. The body count quickly ramps up, taking out the hot suspects and the plot cleverly twists through narrators to keep you on your toes.
So what if you hate the protagonist, so what if the story is heavy on the 'demons of the past' theme, so what if you do not get a fleshed-out, real-world family for our protagonist to cosy up to – this book had me awake at 4am reading under the covers and enjoying every minute.
Chandler? Not quite, but a fast-paced, action-packed, page-turning, noir thriller.
Mark Hutchinson-Lyons is a private client solicitor at Oglethorpe Sturton & Gillibrand