The Family Lawyer's Guide to Separation and Divorce: How to Get What You Both Want
Laura Naser
£12.99, Vermilion
★★★★✩
This book is the equivalent of sitting down for a cuppa with a kind and pragmatic family lawyer mate who can answer all your questions about divorce – and gently stop you from climbing the walls in panic.
Each aspect of the family law process is split into manageable chapters, and the book contains a multitude of helpful and practical tips for the uninitiated. Both the layout and writing are accessible, which is invaluable for those who are (quite understandably) befuddled by the array of processes and options available for dealing with family legal matters.
The book describes in some depth the different tracks along which family proceedings run, separating out divorce, finances and children. The author also explains in a user-friendly way both the court options and the myriad out-of-court dispute resolution options.
While wide-ranging in scope, the book crucially does not skip the basics, such as the difference between solicitors and barristers, and how solicitors' charging systems work. These are things that we family lawyers unfortunately have a habit of skipping over too quickly when explaining to clients.
This book's best attribute is the way in which it melds both legal and practical real-world advice. This is crucial, given that there is no specific law to deal with each and every bump in the road that arises when going through a break-up. I particularly liked the chapter 'What to do if things get nasty', and the very helpful take on handling communications with your ex and the perils of social media.
Naser's contribution would be really useful for anyone going through a divorce or break-up where there are kids and/or property involved. I would recommend it to anyone in such a situation.
Annmarie Carvalho is a therapist, family solicitor and mediator
Privilege (4th edition)


Colin Passmore
£235, Sweet & Maxwell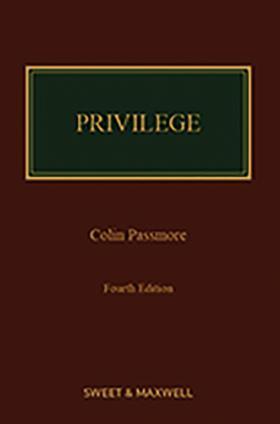 Comprehensive and expertly written, Privilege will appeal both to the practitioner and academic. As well as explaining the law of legal advice and litigation privilege, it explores the core principles of legal professional privilege. In looking at what constitutes privilege, Passmore also identifies situations where privilege occurs. He also assesses whether a documentary communication which was not made in privileged circumstances can subsequently be subject to legal professional privilege.