The Law & Politics of Brexit Volume II: The Withdrawal Agreement
Federico Fabbrini
£29.95, OUP
★★★★★
This book is a fascinating and erudite canter through a complex episode in European history, focusing on the period from 2017 to 2019 when negotiations led to the finalisation of the text of the Withdrawal Agreement (October 2019) and the UK's departure from the EU (31 January 2020). The book is a companion to Volume I, published in 2017, on the law and politics surrounding the UK's Brexit referendum in June 2016.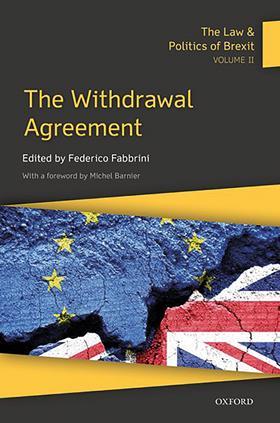 Edited by Professor Federico Fabbrini of Dublin City University, founder of the Brexit Institute, this latest volume brings together a host of academic, legal and political science luminaries from the UK, Ireland and mainland Europe. They contribute different chapters to what is a detailed commentary on the Withdrawal Agreement, the history behind it and what the future might look like. The book contains an eye-catching foreword from Michel Barnier, the chief EU Brexit negotiator.
The editing of the book is superb (including footnotes and index) and each chapter helpfully sets out what it is going to cover. Following a useful introduction from Professor Fabbrini dealing with context and structure, the book then divides into four parts, covering: The Process; The Withdrawal Agreement: Substantive Aspects; The Withdrawal Agreement: Governance Aspects; and The Challenges. Each of these parts contains three chapters on a range of topics, including the negotiations, the extensions and ratifications; citizens' rights, the financial settlement and the Irish border; the transition, decision-making and dispute settlement; and negotiations on future trade relations.
Over 300 pages, the writers' contributions are blended together logically and seamlessly.
The book bills itself as the first comprehensive analysis of the Withdrawal Agreement. This reviewer would give it top marks for putting together a scalable yet in-depth study of a document which has profound constitutional implications both for the UK and the EU.
David Glass is a consultant solicitor at Excello Law Limited