Personal Injury Pleadings (sixth edition)
Patrick Curran


£261, Sweet & Maxwell
★★★★★
This edition of Personal Injury Pleadings stretches to over 2,400 pages. Owing to the very nature and variety of PI litigation, this book was never thin. However, it is more than 800 pages longer than the previous edition, published four years before.
The ballooning in size is due to what the author describes as 'radical changes to the structure and content' of this new edition. The extra content is scattered across the book.
The first chapter, albeit brief, is completely new and gives a historical overview of pleadings from the 14th century onwards. Chapter 2 covers Lord Woolf's final report in 26 pages. These chapters are probably not as useful to the busy litigator as other additions, a number of which are 'on trend' and more practical. For example, the author has added new chapters and pleadings on fundamental dishonesty, qualified one-way costs shifting and foreign holidays.
There is also a short chapter on Relief from Sanctions, including a precedent witness statement from a defaulting solicitor failing to cope with an office epidemic of influenza. Hopefully, that precedent will never be needed.
Keeping up with current issues, the author has also included a short chapter on the effects of Brexit on PI, which flags up a few areas to consider in PI law and practice. It speculates: 'In the short term [the effect of Brexit is] likely to be negligible.'
The new edition updates various areas of law, including informed consent in clinical negligence and non-delegable duties.
The book covers more or less every type of PI claim that would land on your desk. It pleads probably all conceivable accidents at work and in a vehicle. It also covers animals, sports people, occupiers, property owners, private individuals, schools and the supplier of products. It provides the necessary precedents, extracts from cases, relevant overview of the law, and supporting material and legislation.
As well as using the book to draft your own pleadings, it could be useful pre-issue to impress your opponent with a wordy and impressive letter of claim or undertake research on liability.
The book is good value for money, bearing in mind its size, its practical nature and the fact that – if all goes well – the price tag could be recouped by doing your own pleadings in just one case.
Tony Taylor is a consultant solicitor at Bindmans LLP
Bloomsbury Professional Tax Insight: Cryptocurrency and Blockchain
Ben Symons


£40, Bloomsbury Professional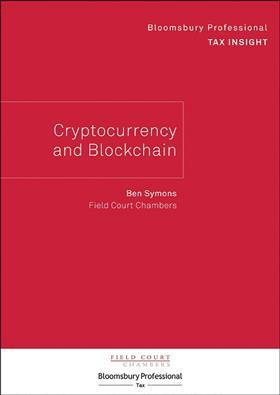 So much has changed since HMRC's 2014 guidance on cryptocurrency. Ben Symons kicks off with background on the development of bitcoin and the application of blockchain technology. He goes on to consider income tax, capital gains tax and IHT in the context of cryptocurrency. With cryptocurrencies being used globally, this bulletin also looks at non-resident investors, offshore cryptocurrency funds and tax avoidance. Key concepts are illustrated with flowcharts and diagrams.