Smarter Legal Marketing
Rachel Brushfield
£55, Law Society
★★★★✩
I am not sure what I was expecting when I picked up this book. Whatever it was, some of the book came as a surprise, though not an unpleasant one.
This book takes marketing from the ground up and is both theoretical but also practical. It is designed, the author says, to help the reader develop the skills, knowledge and 'practical how tos' that lawyers need to master to be successful in marketing.
The author is a mentor and coach with 30 years' experience, 17 of which have been focused on the legal profession. Her approach is very much on marketing oneself and finding the time to do it.
The author starts off by saying that lawyers often think that marketing is about hosting events and doing legal updates for clients, or about their firm's place in the legal directories.
On the contrary, it is quite different. She goes on to offer a definition from the Chartered Institute of Marketing itself: 'The management process concerned with anticipating and satisfying client needs profitably.'
The first chapter sets out common marketing objectives to include creating awareness and perceptions, increasing loyalty and cross-selling. It offers a step-by-step marketing plan and uses a matrix for the reader to consider sources of new clients and new services from current clients.
Perhaps I was expecting an off-the-shelf marketing plan example in the appendices. Instead, the book gets the reader thinking and following an action plan.
The second chapter emphasises the need to put oneself in the client's shoes. It continues the action planning already started in the first chapter. The work goes on to feature an introduction to, and exploration of, brand, and how to define it. One concept is the 'verbal business card' or 'audio logo' (namely the answer you give when someone asks you what do you do).
Other helpful sections include blocks about marketing and another on networking. The latter is particularly useful and also explores online networking via social media such as Twitter and LinkedIn. In fact, LinkedIn gets its own chapter, with a basic guide to its use and marketing objectives.
Time management gets its own chapter too. Why? The author says that you can have clear marketing objectives, insights about your clients' needs, a defined and compelling personal brand plus a focused networking strategy; but without good time management you will not do any marketing.
The author says that her book has been designed to be used and dipped into multiple times. She recommends putting it on a shelf near your desk as a visible reminder to take marketing actions every day.
Tony Roe is a consultant solicitor and family arbitrator at Boardman Hawkins & Osborne
The Firearms Law Handbook
Laura Saunsbury and Nick Doherty
£45, Wildy, Simmonds and Hill Publishing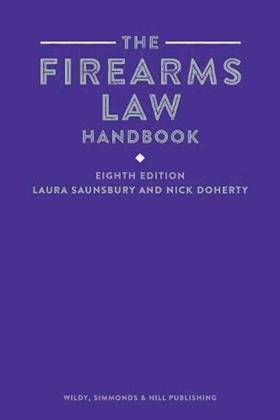 While Britain has some of the world's strictest laws restricting the ownership and use of firearms, many are in circulation as the laws permit them to be owned and used by a variety of people – from farmers to athletes.
This 300-page volume provides a summary of the current laws on firearms. It covers the regulations and laws for specific types of firearms, whether they are tools for pest control, sporting equipment, or antiques; and the component parts of weapons.
This new edition also takes into account changes in firearms laws brought in by the Policing and Crime Act 2017, making it a valuable tome for criminal specialists.