To Become an Outlaw: A Ben Schroeder Novel
Peter Murphy
£9.99, No Exit Press
★★★★✩
This is an intriguing and fascinating book, displaying an insight into the behaviour of the apartheid regime in South Africa during the 1960s and 1970s.
The story centres around Danie du Plessis, the son of a conservative Afrikaner family. At university in Johannesburg, he meets and falls in love with a non-white girl, a 'Cape coloured' as they were then described. White people fraternising with non-white people was strictly forbidden and could easily result in imprisonment.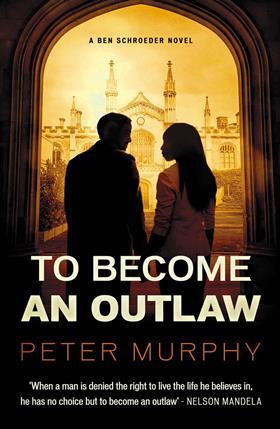 The couple flee South Africa and settle in Cambridge. They marry and have two children. He has studied law, and he attains a fellowship as a law lecturer at one of the colleges. He is enlisted by another South African lawyer in London to assist with the struggle by the African National Congress to bring down the apartheid regime. His role is to deposit money received from 'donors' into the bank accounts of another, those funds then going to South Africa to fund the distribution of anti-apartheid leaflets.
As time goes by his involvement increases. There follow murders, attempted murders and other events perpetrated by the South African Bureau of State Security. Accusations are made about a drug offence and money laundering.
It is easy to think that this book depicts a true story. Murphy, who spent a career in the law as an advocate, teacher, and judge, makes it clear that his is a novel, although clearly well researched.
The details and description of legal procedure make fascinating reading. Criminal lawyers will remember that the legal details relate to the law as it was in the mid 1970s.
This is a gripping and compelling book.
Warner Falk is a retired solicitor and higher courts advocate (crime)