How to Lead Smart People
Arun Singh and Mike Mister
£10.99, Profile Books
★★★★✩
This small book by two experienced professionals is packed with practical ideas for those who need to step up as leaders and learn new skill sets for how to lead their firms – within which there will be smart (and often difficult) fellow professionals.
As someone who has been running a law firm for many years, I recognise the issues which this book helpfully addresses. Rather than reading it from start to finish, the multi-tasking firm leader should dip into areas of interest, depending upon specific needs at the time. It is not intended to be a theoretical book, but rather a straightforward and practical tool for anyone who has the job of leading and managing a professional business, drawing as it does on hundreds of conversations with professionals boasting hard-earned experience.
The book is helpfully structured and clearly signposted for the busy professional. It is formatted in a handy size and ideal for carrying in a bag and for dipping into when travelling. It is divided into three parts: 'leading yourself', 'leading your team' and 'leading your organisation'. All topics covered include examples based on the authors' experiences and an action-oriented 'to do' section. The book suggests common-sense ideas which a professional who is leading a group of fellow professionals might consider, adapt to specific circumstances and usefully apply.
In my view, the book deals best with 'leading yourself', where it focuses on critical topics such as building trust, listening, being an energy radiator and being time-smart – not forgetting managing routine work, which leaders sometimes ignore at their peril.
The authors emphasise that smart professionals expect their leaders to be able to add something substantive to their own endeavours – the 'added value' requirement that many leaders fail to recognise. This part of the book is a treasure trove of inspiring tips, ranging from managing the finite time available to ensuring leaders look after their wellbeing and maintain resilience. All these issues are now increasingly recognised as vital actions if professional firm leaders are to be able to operate successfully and stay the course.
The second part of the book, 'leading your team', provides many useful ideas in relation to issues such as decision-making and empowerment, both areas in which many professional firm leaders might usefully improve. While many of the practical suggestions are not new (delegation, coaching, giving feedback and so on), the approach is practical, based on common sense, and is refreshing. I liked in particular the ideas on aspects of leadership such as 'building credibility' and ensuring 'impact and presence', as well as the section on 'managing remote teams', which is increasingly important as technology develops, firms grow geographically and professionals are no longer based in one office.
Finally, 'leading your organisation' focuses on areas crucial to the development and future-proofing of any professional firm: including change management, innovation and creativity, providing thought leadership for clients and developing a realistic vision for the business. At the same time, the book does not forget fundamental issues such as 'doing politics' and 'building influence'.
While this book does not try to answer every question which might arise in a professional firm, it does contain many sound ideas which can then form a basis for action planning.
Many of the ideas may come naturally to some professional leaders, although I would suggest that even very experienced professionals will, when the occasion requires, be able to gain something useful.
I would recommend How to Lead Smart People as an extremely helpful aid to anyone who is either running a professional firm or thinking about doing so.
Indeed, I wish I had had the benefit of this book when I first set up my own law firm.
Laura Devine is managing partner at Laura Devine Immigration
The Last Waltz of the Law of Nations. A Translation of The 1803 Edition of The Institutions of Natural Law and the Law of Nations by Joseph-Mathias Gérard de Rayneval
Jean Allain
£70, OUP
★★★✩✩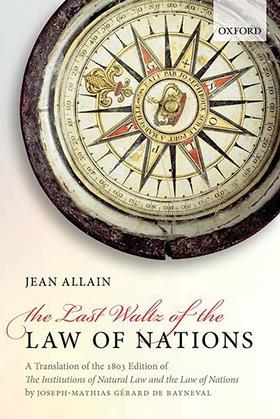 This is the first English translation of a book written in 1803, which is said by the translator to be a work of considerable importance as a text on international law. Joseph-Mathias Gérard de Rayneval was a diplomat and government minister in pre-revolutionary France. But he fell out of favour with post-revolutionary governments, and in his retirement wrote this book. About half the book covers his ideas on government. There is a section on relations between states, on the law of the sea (France was concerned about the growing power of the Royal Navy) and on the law of conflict.
De Rayneval was a conservative who strongly believed in the rights of the aristocracy and the land-owning classes; he was not keen on what we would call parliamentary democracy. He believed in the law of self-preservation.
The translator does not really explain why the work has the historical significance he claims. That said, it is a masterpiece of scholarship and an interesting insight into its period.
David Pickup is a partner at Pickup & Scott Solicitors, Aylesbury