The Lawyer's Style Guide: A Student and Practitioner Guide
Peter Butt
£49.50, Hart Publishing
★★★★✩
Have you ever wondered: What does inchoate mean? Who are my assigns? Are they my assignees? What is wilful default/neglect/misconduct/wrongdoing? Should I write set off or set-off? Must I demand that we add keep indemnified and hold harmless to this indemnity? What difference does it make?
In A-Z format, this 900-page book offers answers to these questions and hundreds more. Like a legal dictionary, it gives examples showing how these words have been used in legal documents and in court.
Unlike most legal dictionaries, it also steers the reader towards short, clear, understandable alternatives, with a view to drafting short, clear, and readable documents. Latin and Law French are translated, with examples of the pitfalls awaiting unwary English-speakers who use and adapt them: see the entries for contra proferentem and the plural of cestui que trust.
Other entries, still arranged in A-Z order by keyword, cover some of the more puzzling aspects of contract drafting, such as:
Why contracts start with a Background or Recitals section, and what to put there.
Definitions: 13 pages discuss points such as what to define, where to place the definition, whether and how to highlight a defined term in the body of the document, and common drafting pitfalls.
Whether to identify contracting parties as We/You (or maybe we/you).
The most common sources of ambiguity in text.
As a style guide, the book also offers good advice on legal drafting. For example, the entry on Redrafting in plain English gives examples of how legal text can be pruned, rephrased, restructured and reformatted to achieve the same message in half the words, and leads the keen reader on to entries on Clause structure, Prolixity and Plain language.
An earlier version of this work was published in Australia in 2018. I wouldn't advise anyone to recycle their old copy and rush out to buy the new one. But, for UK readers, this new version supersedes it. It has been fully revised, with some new entries and many new UK authorities and quotations to suit our local needs.
Daphne Perry is an ex-lawyer and a consultant, writer and trainer on plain English for law and business
Insolvency Law Handbook (4th edition)
Vernon Dennis
£100, Law Society
This book provides comprehensive coverage of the significant body of case law in personal and corporate insolvency. It is easy to follow and, alongside Sealy & Milman, is a must for both insolvency practitioners and restructuring and insolvency lawyers, advising companies, directors, creditors and debtors.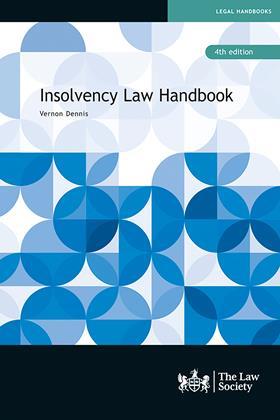 Already, this book has been invaluable to me, in preparing advice on both individual voluntary arrangements and company voluntary arrangements.
This new edition is particularly pertinent as it was developed and published during a period of great uncertainty for businesses. The Corporate Insolvency and Governance Act 2020 introduced new measures and techniques which are extensively covered here.
The pandemic continues to have a profound effect upon business activity. There is great uncertainty as to whether the enormous public and private debt burden incurred as a result will lead to huge rises in individual and corporate insolvency. The publication of the new edition is therefore both timely and relevant.
Christina Fitzgerald is a partner at Edwin Coe LLP and the vice-president of R3, the trade body for the UK insolvency and restructuring profession