Civil Justice After Covid: A Change for the Better? An Examination of the Civil Justice System in England and Wales pre and post Covid-19 and the impact on the administration of justice
Anthony Reeves
£10.99, Emerald Guides
★★★✩✩
I wonder if future legal history will be divided into BC and AC: before Covid and after Covid. This book asks what was wrong with the civil justice system in this country and what needs to be done to fix it. Is Covid the opportunity to put things right? It is an interesting and practical book written by an experienced civil litigator.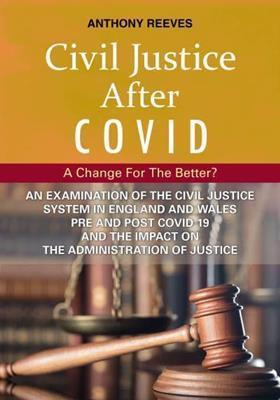 Despite the title, the book is mainly about issues facing the civil court service, such as the cuts to the courts system and particularly the closure of court buildings. Between 2010 and 2019, 162 magistrates' courts closed out of 323 buildings and 90 county courts closed out of 240. That is a significant reduction, forcing participants to travel long distances to find a court. When I last went to a county court, it was just a building with hearing rooms. There was no office and the only staff seemed to be security workers telling people there was no office, and for queries you had to telephone a court centre miles away. Fewer court buildings means less staff who are often temporary agency staff, not well trained and who do not stay very long.
For several years, the profession has been subjected to various government efforts to reduce delays and costs – both of which are popularly seen as the fault of solicitors. The reforms, no doubt well meant, have according to this book backfired. There are too many pitfalls both for the unwary and the careful litigator. This results in too much satellite litigation which often has to do with costs budgeting. The author makes some robust comments on this subject.
In 1999, Lord Woolf said that he wanted a concise set of civil procedure rules that would fit on his bedside table. The author says the rules have grown rapidly and repeatedly and that his lordship will need a much bigger bedside table now. It is interesting that courts have closed in proportion to the increase in rules.
The Covid pandemic is probably an opportunity for the government and the profession to get things right. There already were telephone hearings before Covid and they worked reasonably well. Virtual justice is probably the shape of things to come. Video hearings are more convenient for everyone and cheaper, although I have not seen any comparisons between the cost of the IT and reduction in travel. Hearings are more efficient, involve no travel and are easier for people with mobility problems.
The author has some thought-provoking and interesting suggestions to reform the system. Clearly the government will need to provide enough funding to make it work. He suggests the profession could provide reserve judges when needed. He also discusses the effect Covid will have on the legal profession and suggests big firms will no longer need plush offices, and there will be more consultants. This has been coming for a while as many cases are dealt with by firms where you never meet the fee-earner and everything is done online. Reeves also writes that smaller firms pay a lot more for professional fees with the SRA. If you are lucky enough to work in a mega firm with fees of over £10m turnover, fees to the SRA will be 0.21% of turnover; a firm with fees of under £500,000 will pay 0.39%.
There are other issues the profession needs to confront. How do litigants pay for this? Where is legal aid? If the government makes litigation twice as easy as it was it will lead to twice as many cases. If to make an online claims a disgruntled person only has to tick a box saying 'I want £X from Y' then there will be too many cases for judges to deal with and they will spend their time explaining the law to people.
It is an interesting book and worth it alone for his quote from The Due Process of Law by Lord Denning,
The real reason for the delays of lawyers in not slackness or dilatoriness. They are as a class the most hardworking of all professional[s]. It often lies in their choice of priorities…
David Pickup is a partner at Pickup & Scott Solicitors, Aylesbury
Would you be interested in writing a book review for the Law Society Gazette? The Gazette receives books on a range of legal specialisms, as well as fiction, history and biography. If you are interested please write to Nicholas Goodman indicating your specialism