In Her Words: Women lawyers from around the world share their hopes for the future
Edited by D. Denis-Smith and A. Van De Casteele
£9.95, Scala Arts and Heritage Publishers
★★✩✩✩
The 'Next 100 Years' was conceived and edited by Dana Denis-Smith who spearheaded the brilliant, joyous and bold 'First 100 Years Project' celebrating the rise and rise of women in the law.
Sadly, however, despite its aspirational claims this book does not deliver on its promises. While 1,000 portraits were taken of women lawyers from around the world, only 50 made it into the book. It claims to represent women lawyers from around the world but features only three African lawyers, and no South American, north American or Canadian lawyers. Central America is represented by six lawyers, all from Mexico City. Asia-Pacific is represented by four Australian lawyers – all from Sydney – and a lawyer from Singapore. Europe fairs better and the UK ranks top with 33 entries. There are no women lawyers from the Middle East.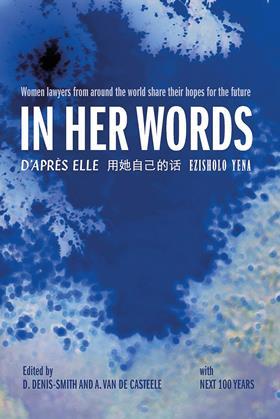 While purporting to share women lawyers' hopes for the next 100 years, the reality is a record of how Covid-19 impacted on their lives personally and professionally.
Although the content is not what is says on the tin, the 50 women who made it into the book are diverse and inspirational. Many acknowledge that they are standing on the shoulders of women lawyers who have fought many battles on their behalf. All believe that changes need to be made within the profession/society to shift the burden of child caring and domestic responsibility from women, recognising that 'women hold up half the sky… and men hold up the other half of the sky'.
I am sure that had it not been for the Covid-19 pandemic the book's promised global aspirations would have been achieved. Instead the book will provide historians with an interesting snapshot of the reality of living/working in 2020 for women lawyers in a few parts of the world.
Alison Herbert founded and managed a niche personal injury legal practice for 13 years. She is now an executive coach