Research Handbook on Torture: Legal and Medical Perspectives on Prohibition and Prevention
Malcolm D Evans and Jens Modvig
£220, Edward Elgar Publishing
★★★★★
Brexiteer politicians – including those who hold high office – have elevated Brexit to the high principle of national sovereignty. Freed from the shackles of the treaties of Maastricht and Lisbon, and the architecture of the EU, Brexiteers trumpet supposedly regained sovereignty as only cause for celebration.
This book includes discussion of United Nations, African, American and European treaty-based human rights instruments which prohibit the use of torture – and the mechanisms for the enforcement of these treaty obligations. They are a reminder that constraints on national sovereignty are not necessarily the work of the wicked and that virtue is not always on the side of unlimited national sovereignty.
As Luiz Oette writes in the chapter entitled Universal and extraterritorial jurisdiction for torture: 'Assertions of sovereignty and territoriality conflict with the objective of making the struggle against torture effective worldwide.'
It was, of course, that struggle against torture which saw the 1998 arrest in London of the Chilean dictator General Augusto Pinochet, on an international arrest warrant issued by a Spanish judge applying the principle of universal jurisdiction.
This handbook reminds us that the struggle against torture is ongoing. Its opening chapter is an evaluation of the notorious ticking bomb scenario. An investigator is confronted with the dilemma of whether to resort to torture in order to extract from a suspect in detention the precise whereabouts of a ticking bomb. This scenario has done much to accord respectability to the argument that, in some circumstances, torture may be justified.
Even state parties to the UN Convention against Torture may impose conditions on the effectiveness of enforcement mechanisms. A former UN special rapporteur on torture declined to visit the Guantanamo detention centre (pictured) when a condition was set that he did not speak to any of the detainees.
It is discussions of issues such as these which make this book a valuable source of reference for a wide range of readers, from students and scholars on the one hand, to legal and medical practitioners on the other, who are concerned with the protection and promotion of human rights.
Mark Guthrie is a member of RLConsulting at Red Lion Chambers in London. He is a former head of rule of law at the Commonwealth Secretariat in London and deputy head of human rights at OSCE/ODIHR in Warsaw.
Advanced Introduction to Global Sports Law

Stephen F Ross
£85, Edward Elgar Publishing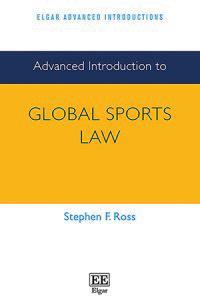 This is a succinct introduction to key topics of law specific to sport, comparing approaches to sports law across the globe, with particular focus on the US, Europe and common law jurisdictions.
It contrasts the profit-maximising approach of north American leagues with the global integrated approach of professional sports governed by national and international governing boards, offering a novel model for the latter.
It will be a useful resource for scholars and advanced students of sports law, and beneficial for sports lawyers and practitioners, as well as those in the fields of global and transnational law.