The rallying cry of this year's International Women's Day campaign calls out to me:
'Imagine a gender equal world. A world free of bias, stereotypes and discrimination. A world that's diverse, equitable, and inclusive. A world where difference is valued and celebrated. Together we can forge women's equality.'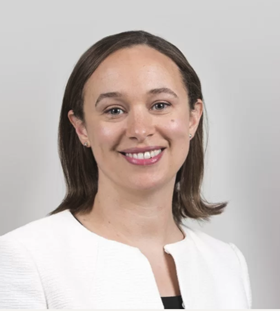 I find these words very powerful, because discrimination, bias and stereotypes are not necessarily what people believe of you, but what you believe of yourself. Do you feel lesser because you are not white or able bodied or because you once experienced mental health issues? The list is long, and I have certainly felt this at points in my education and career. While I cannot recall a single experience of active discrimination in my career as a lawyer, I fit the bill for someone who would benefit from an inclusive workplace and profession. I am a mixed race, mother of two, who utilises hybrid working.
A sense of not belonging and feeling less than often begins early in life and is seemingly innocuous. At my private all-girls school in London, I wished for swishing long blond hair, rather than my hard to manage loose afro. I only felt I belonged once I had succumbed to the lure of the hairdresser's chemical straighteners and hot irons. There followed a period of belonging by moulding myself to the norm.
During my undergraduate degree at Bristol University, I was shocked by the lack of diversity. There were hardly any black students and certainly no Afro-Caribbean students that I was aware of on my course. The dominant social group was upper middle class, privately educated and white. I did not feel an active pressure to fit in, but you do it without realising. You focus on the parts of yourself that conform and push down the parts that don't.
I thoroughly enjoyed university and do not wish to denigrate the experience, the learning, and the friendships I gained. However, it can only be a positive that the university now has a more diverse student base. In Bristol's 2020 undergraduate intake, 19.5% of home students were from black, Asian or minority ethnic backgrounds.
Diversity is a benefit for its own sake. It brings difference of opinion, experience and perspective. Most importantly, it provides the opportunity to form friendships beyond our normal social groups, which enriches us.
Fast forward to my legal career and I still see a lack of diversity in the profession. There are multiple issues that flow from this. Firstly, it is hard to encourage minority groups into the profession if they cannot see themselves reflected there. It is amazing how empowering it is to see someone like yourself working in the career you want. How many potentially brilliant lawyers are not entering the profession because it feels out of reach? If we want to harness all of that potential talent, we need make everyone feel they have an equal chance of success.
I have been fortunate to work in firms that have been open-minded and supportive. Hodge Jones & Allen is a diverse and inspiring working environment, out of 48 partners, 32 are female (66%) compared to 35% of partners nationally.
There is excellent work being done across the profession, for example on Resolutions Diversity and Inclusion Committee. There is also work being done by the Bar Council to encourage more women into the profession. As of December 2020, women constituted 38.2% of the Bar, and in December 2020 the number of female and male pupils was equal. I think more could still be done at school level to educate students both on family law itself and the profession to encourage greater diversity and familiarity with the court and procedures. This would help to demystify the profession.
I still blow dry my hair, not because I want to fit in, but because it is more practical to do so with two small children. My clients may not realise my diversity, but even if they did, I do not think it would impact on my relationship with them. I do not need to be like my clients to act for them. My guiding principle has always been to let the quality of the work be the guide and to slowly build a practice which delivers good results. I lead with my work and not my identity. It takes confidence and experience to do that. You have to let go of the little voice that says there may not be room at the table and take your seat.
Vanessa Friend is partner at Hodge Jones & Allen