I am among 18 police and crime commissioners (PCCs) across the country who feel that the current law on assisted dying is simply not working.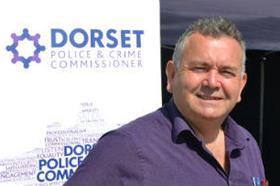 Last week we jointly wrote to the lord chancellor and secretary of state for justice, the Rt Hon Robert Buckland MP, expressing our concern about the wide-ranging impacts of Section 2 of the 1961 Suicide Act, which constitutes a blanket ban on assisted dying in England and Wales. We have urged him to launch an inquiry into the functioning of the current law, which his predecessor David Gauke had committed to this summer.
These issues have been brought into sharp relief for us recently, after the police, crime and victims' commissioner for Durham, Ron Hogg, revealed that he had been diagnosed with motor neurone disease. Ron has since spoken publicly about his desire for greater choice and control over the end of his life, lamenting the fact that he must now contemplate travelling to Switzerland for an assisted death, rather than die as he would wish in Scotland, his birthplace. Unable to travel without assistance, he must now consider asking family members to break the law and risk prosecution by accompanying him.
But solidarity with our friend and colleague is not our sole motivation for speaking out on this matter. As police and crime commissioners, we and our police forces see how the law is enforced on a day-to-day basis. It is not fit for purpose.
The ban on assisted dying in the UK merely drives the practice underground or overseas. According to estimates, around 300 terminally ill people in England take their own lives at home every year. One Briton has an assisted death in Switzerland every eight days, in many cases ending their lives prematurely, for fear of becoming too ill to make the journey. These deaths take place without oversight or assistance from UK authorities. Family members often feel they have no choice but to step in to fill this gap, but are then criminalised as a result, as Ann Whaley and Mavis Eccleston were in recent months.
As national lead for PCCs on suicide, the protection of vulnerable people is uppermost in my concerns. I and my colleagues believe there are insufficient checks and balances in place to prevent abuse or coercion under the current system. In the majority of cases assisted deaths take place without the authorities' knowledge, meaning potential safeguarding opportunities are missed. Based on Dignitas figures alone, there have been over 300 British people assisted to die there since 2009, yet in the same period just 152 cases of assisted suicide have been investigated in the UK. Where investigations do take place, they most often occur after someone has been assisted to die, when it is too late to protect someone. These investigations are often lengthy, distressing and intrusive for families who have, in many cases, been motivated purely by compassion. The police resources diverted to these cases are considerable.
The law is unequal and near-impossible to enforce. It effectively creates a two-tier system where those who are healthy and wealthy enough to travel to Switzerland can avail themselves of a legal assisted death under medical supervision for a price tag of £10,000. Those less fortunate are forced to choose between a much less palatable set of options at home. In April, former Supreme Court Judge Lord Sumption told families there was 'no moral obligation to obey the law' when it came to assisted dying. He argued that 'the law should continue to criminalise assisted suicide, and I think that the law should be broken from time to time'.
I would argue that the appropriate response to a law that is not working is, at the very least, detailed and thorough examination, not turning a blind eye. Ron Hogg and I have requested a meeting with Robert Buckland to discuss these matters as a matter of urgency, not only because of Ron's rapidly deteriorating health, but because we cannot accept the failures of the status quo to continue unchallenged.