The First 100 Years project recently hosted the 'Inspirational Women of the Year' Awards and the launch of First, a book celebrating the first 100 years of women in law. These were remarkable occasions, where we could reflect on that which has been achieved in the first centenary since the Sex Disqualification (Removal) Act 1919 was enacted and recognise the work that is ongoing as we enter the next 100 years.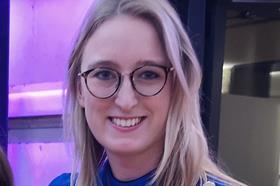 Next year, I will be called to the Bar of England and Wales. It is unfathomable to me that, 100 years ago that could not be. I would have been able to take my professional qualifications but, because women were not legally persons, they could not be called to the Bar or added to the roll of solicitors. I decided I wanted to become a barrister because of my work representing domestic abuse survivors and it was for that work that I was one of six finalists at the First 100 Years awards ceremony in the 'Champion of the Year' category. It was a privilege to be there, amongst such impressive advocates, many of whom, such as Baroness Helena Kennedy QC and Rehana Popal, I consider to be role models.
I remember meeting the founder of First 100 Years, Dana Denis-Smith, back in 2016 when Dana came to speak at the University of London for an event I organised on diversity in the law. Dana was ambitious and dedicated to the project which she intended to be a celebration of all that has been achieved. She had already successfully launched Obelisk, a unique flexible legal work model that connects organisations needing high-quality and effective legal services with talented lawyers who seek a flexible work-life balance. Now she was embarking on telling the much untold story of the first 100 years of women in law.
Dana was ambitious, but even by her standards the project has achieved so much more than could ever have been expected: an online museum archive, videos of women who have achieved key firsts and now a book First, written by Lucinda Acland and Katie Broomfield of Queen Mary University.
As I read First, a few sections really jumped out. In the foreword, Baroness Hale comments that 'to make progress in the law it takes both men and women. It takes women to be doing the same work as – and to do it as well as – men. It takes men to realise how they would feel if the law treated them as badly as it has sometimes treated women.' At the awards evening, it was said by one of the speakers that legal aid work is dominated by women and has almost become a caring profession. This is deeply concerning. We may have greater equality on the face of it but in reality, when one digs a little deeper, many of the old divides persist: men do the proper, challenging commercial work whilst women can look after those who need help.
Maud Crofts was one of four women who in 1913 challenged - all the way to the Court of Appeal - the Law Society's refusal to admit women. On 6 and 7 November 1922, she was one of the first four women to sit the Law Society's entrance exams. All of the women passed, and on 13 January 1923 Maud became the first woman in England and Wales to hold a practising certificate. What really struck me about Maud was that she did not stop at securing the right for women to enter the legal profession. In 1925, she published a book on the position of women under the English law and toured the country giving talks to women on their rights. In 1929 she started a radio programme providing practical legal advice to women. One can only imagine what Maud would have done with social media to expand the reach and impact of women's legal education.
The final story I am going to draw your attention to is that of Baroness Scotland. She holds a string of firsts: the first black woman to be appointed a deputy High Court judge, recorder and master of Middle Temple and attorney general for England and Wales and advocate general for Northern Ireland. The quote which accompanies Baroness Scotland's page says simply: 'I thought any job was suitable for a black woman'. This determined sense of 'why not?' pervades the pages of First and Baroness Scotland's story brings them all together.
Through this we have educated ourselves with 'herstory'; my generation certainly stands on the shoulders of giants.
However, we still have a long way to go. At the First 100 Years event last week, I shared a story with Helena Kennedy QC that, at the first networking event I ever went to five years ago at Inner Temple, after a conversation with a judge about a career in law, he concluded by saying that I would make an excellent barrister's wife. Helena looked up and said: 'That's nothing, when I was made a QC, I was invited to Gray's Inn for a celebratory dinner where my husband was announced as the newly-appointed QC rather than me'.
It appears that we are still facing many of the same battles. Even now at Bar events I am routinely asked who I am with, whilst my male peers are more accepted and acceptable. But, of course, this only make my peers and I more determined: in the words of Baroness Hale, president of the UK Supreme Court: 'Women are equal to everything'.
Jemima Lovatt is a legal researcher at No5 Chambers