Many entering the legal profession feel deterred by the perceived lack of social mobility in the sector and that they might not be able to succeed due to their background.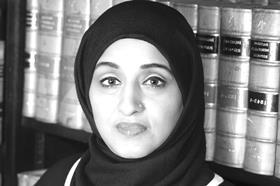 My personal journey into law is proof that this is not true. I firmly believe, if you really do aspire to join this incredibly rewarding profession and are prepared to work hard enough, it is yours for the taking.
I am the eldest of six children and was born and raised in Birmingham. When I was 11, I was taken out of school and began following the blueprint that had been laid out for my life.
At 18, I entered into an arranged marriage and two years later, my daughter was born.
Not having an education meant that my career choices were limited. I worked as a mushroom picker, cleaner and clothes packer.
After doing these manual jobs for a few years, I managed to get a job as a revenue assistant by taking a numeracy test – but I knew I had more to offer.
My life took some twists and turns and by the time I was 30, I was divorced and a single mother.
When I stopped to consider what I wanted for my life, I realised I wanted an education, a degree and a career. I applied to study a degree in law at my local university in the West Midlands.
As I had left school so young, I did not have A-levels or GCSEs and could not apply to university in the usual way. Instead I interviewed with one of the lecturers – Dr Ewan Kirk.
During my interview, I explained my situation, why I was applying to the course and how much I wanted to pursue a career.
Dr Kirk's response was that while he would have loved to offer me a place, I did not have any of the necessary qualifications for a law degree.
I knew this might be my only shot at getting into university to study law so I made my situation clear. 'Ewan,' I said. 'Look at me – I'm a 32-year-old single mother. I have no education. I want to be a lawyer – help me!'
I promised him I would graduate with a first and work as hard as I needed to.
Two hours and a lot of persuasion later, he finally agreed to give me a place on the course.
When I was given my first assignment, I had no idea how to write an essay or what an introduction or conclusion was. I was starting completely from scratch but I loved it from day one.
I took my studies seriously and worked hard throughout university – going to every lecture and graduating with the highest first-class degree in my university that year.
My family was incredibly encouraging and understanding and the experience made me much more confident and focused. I finally felt free and that I was in a position to do something rewarding with my life.
While I was still living in Birmingham, I was offered a training contract in London. My daughter encouraged me to go – telling me if I did not follow my dreams now, I never would.
My parents looked after her during this time and never made me feel guilty for pursuing my career.
Before moving to London to start my training contract at Freshfields Bruckhaus Deringer LLP, I googled 'girl in head scarf law firm London' to see whether women in London law firms wore headscarves.
I did not want to lose my identity and wanted to be proud of who I am and where I am from while working at a city firm. It felt liberating to walk into an international firm and feel I could be whoever I wanted, in every possible way.
I am now a qualified lawyer and have recently accepted a new position at HM Treasury to assist the government with the transition of the UK leaving the EU – I have never regretted my decision to enter the law.
I have had an incredibly rewarding career and decided to share my journey into the profession so that people who have been in similar situations to mine can see it is possible to achieve whatever you want in life.
The Law Society's Social Mobility Ambassador programme selects ten ambassadors bi-annually to share their experience of entering the profession and the challenges they overcame.
Each ambassador reflects on their career path and practical tips and advice for those considering a career in the law.
Applications to become a 2020 Social Mobility Ambassador opened on 4 March and will close on 3 April 2020. For more information or to apply, please visit Social mobility ambassadors.

Koser Shaheen, chair of the Law Society Ethnic Minority Lawyers Division and former social mobility ambassador